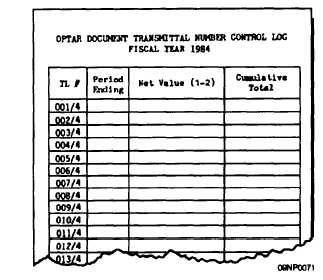 Figure l0-17.-OPTAR Document Transmittal Report NAVCOMPT Form 2156.
Figure  10-18.-OPTAR  document  transmittal  number
control  log.
columns   is   demonstrated   in   NAVSO   P-3073,
Budget/OPTAR   Report.
A   separate   number   control   log   should   be
maintained  for  the  funds  of  each  fiscal  year.  Each  log
should  have  room  for  transmittals  prepared  after  the
funds have expired.
BALANCING THE OPTAR LOG
Before  the  OPTAR  Document  Transmittal  Report
is submitted to the supply officer for signature, the
Requisition/OPTAR Log must be balanced. The first
step is to draw a double line underneath the last entry in
the  log.  Then  refer  to  NAVSO  P-3073  for  detailed
instructions on the process of balancing the OPTAR
Log.
BUDGET/OPTAR  REPORT
The Budget/OPTAR Report, NAVCOMPT Form
2157, is designed to provide status on the ship's funds
to  the  DAO  and  the  ship's  type  commander.  It  is
prepared  each  month  for  the  current  fiscal  year's
OPTAR (and the first prior year's OPTAR for report
months  October  through  March).  The  Budget/OPTAR
Report will normally be used to prepare and support the
message "Budget/ OPTAR Report" which is sent to the
DFAS.  The  Budget/OPTAR  Report  is  retained  on  board
to  confirm  that  the  message  "Budget/OPTAR  Report"
was  sent  to  the  DFAS.
However,  under  two  conditions  the  Budget/OPTAR
Report  must  be  submitted  to  the  DAO  and  a  message
10-19