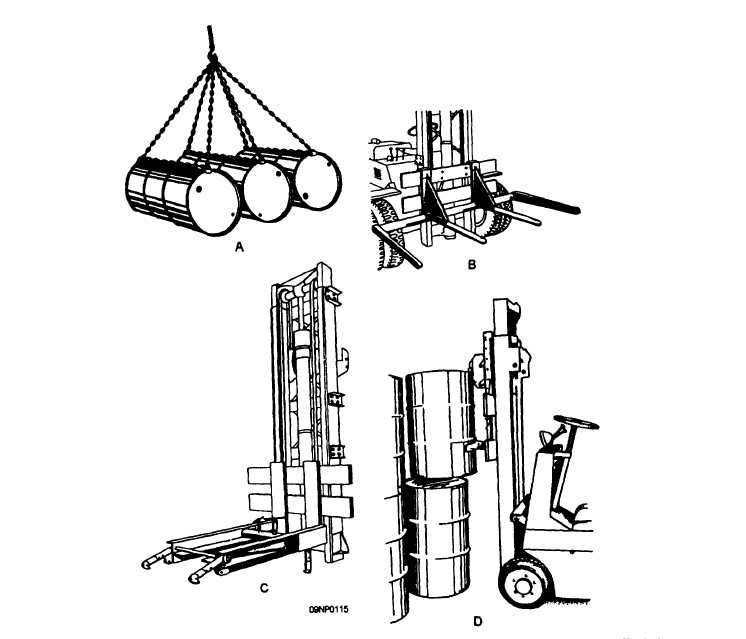 Figure 13-16.—Drum-handling  equipment:  (A)  Sling;  (B)  Cradle  attachment;  (C)  Horizontal  carry  attachment;  (D)  Vertical  carry
attachment.
The tool used to tighten the strapping is capable of
exerting  a  great  amount  of  force.  Therefore  you  must
be careful not to crush the material. Metal or folded
cardboard corners may be placed under the strapping to
distribute the force over a wider area and help prevent
damage to the cartons or their contents.
DRUM-HANDLING   EQUIPMENT
The drum-handling sling is a device for picking up
drums or barrels. It was designed for shipboard loading,
but may be used with a crane for any drum or barrel
handling operation. The sling may be of the chain type
(figure 13-16A), which is a series of chain loops and
sliding hooks. It may also be of the frame type, which
is a steel bar from which a series of sling hooks are
suspended.
Other drum-handling equipment in use includes
several forklift truck attachments capable of handling
filled  55-gallon  drums.  Four  such  attachments  are
available.  The  first  consists  of  a  series  of  specially
shaped and spaced forks that cradle the drums to be
handled.   (See   figure   13-   16   B.)   Normally   this
attachment is fabricated to handle three filled drums at
one  time.  The  second  type  of  attachment,  which  is
mounted on the regular truck forks, consists of side rails
13-7