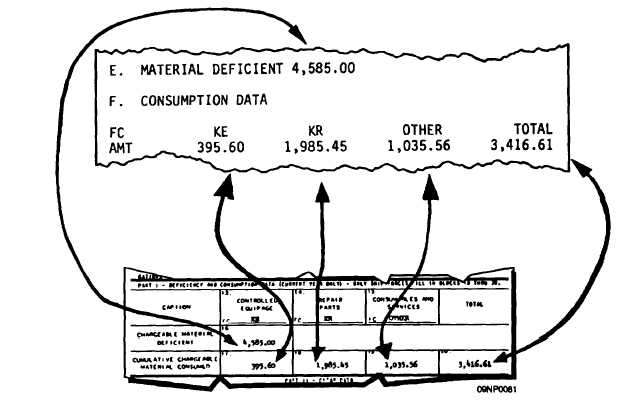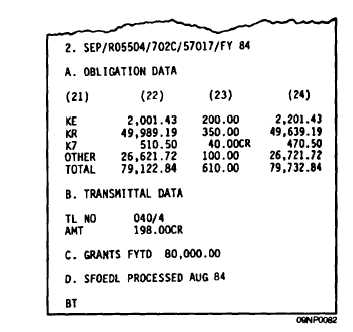 Figure 10-28.-Message OPTAR Report (subparagraphs  E and F).
Figure 10-29.—Message OPTAR Report (paragraph 2).
letters  of  the  month  of  the  report,  the  UIC  of  the
reporting  ship,  the  subhead,  the  operating  budget
number (including the OB suffix if applicable), and the
fiscal  year.
When the first prior year's OPTAR is reported upon
in  paragraph  2  (i.e.,  for  report  months  of  October
through   March),   only   the   following   data   will   be
reported:
A.  OBLIGATION  DATA
B.  TRANSMITTAL  DATA
C.  GRANTS  FYTD
D.  SFOEDL  PROCESSED
The  data  for  these  subparagraphs  will  be  prepared
in the same manner as described and illustrated for the
current fiscal year's OPTAR in the preceding pages. If
there   was   no   transmittal   of   unfilled   orders   nor
cancellations on a Transmittal Letter (NAVCOMPT
Form  2156)  in  the  month,  subparagraph  B  should  show
"B, TRANSMITTAL DATA NONE."
Figure 10-29 shows a typical paragraph 2 of the
Budget/OPTAR  Report  message  reporting  on  the  last
prior  year's  OPTAR.
Message  OPTAR  Report  verification  When  the
OPTAR  recordskeeper  finishes  drafting  the  message,  it
is   given   to   the   supply   officer.   The   OPTAR
recordskeeper should keep a copy of the draft. When
10-27