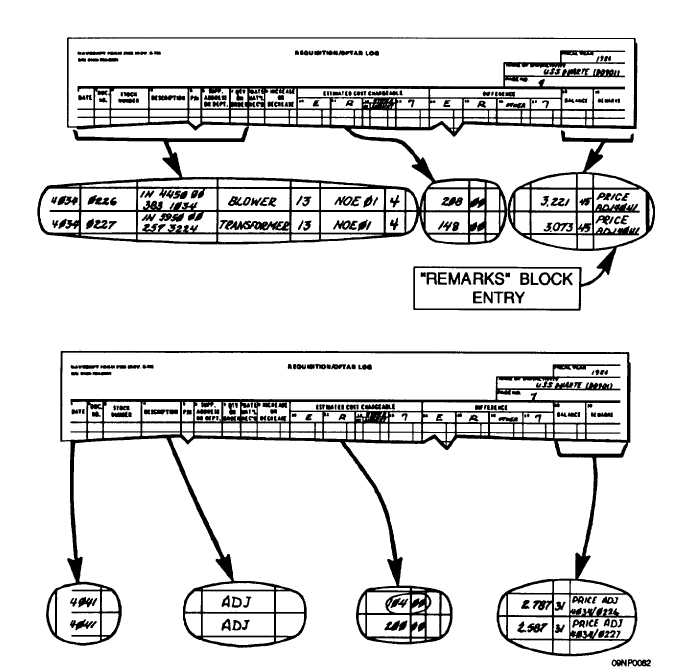 include either unit price or total price information.
Consequently  an  advance  price  adjustment  is  done  on
the basis of status information that has been sent to the
ship  for  some  reason.  The  requisition  Storekeeper  can
spot  price  changes  by  comparing  the  unit  price  shown
on the status card or message with the unit price shown
on the corresponding DD Form 1348 hardback copy
that is filed in the Material outstanding File. Since
advance action is limited to price differences of $100 or
more, many requisition Storekeepers only make this
comparison when the unit price on the status card or
message is $25 or more. The steps for adjusting the
Requisition/OPTAR Log are found in NAVSUP P-485.
An  illustration  of  posting  advance  price  adjustments  is
in figure 10-9.
MATERIAL  RECEIPTS
When material is received aboard, the actions taken
by the OPTAR recordskeeper depends upon the nature
of the type of receipt. Before any action is taken, the
recordskeeper  must  recognize  the  type  of  receipt.
Figure  10-10  shows  the  normal  shipboard  flow  of
receipt  documents.
Figure 10-9.-Posting advance price adjustments.
10-12