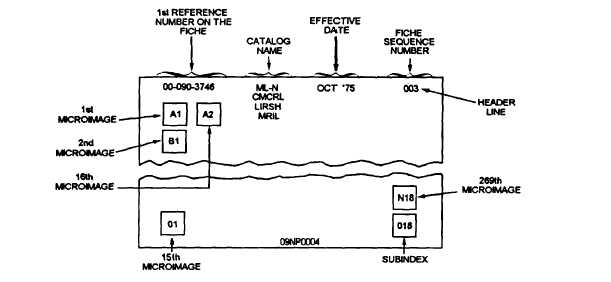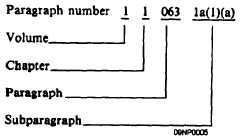 Figure 3-2.-Representation of fiche data fields.
various bureaus, commands,
officer  billets.  The  bureaus,
offices, and individual
commands, and offices
issue   publications   which   spell   out   the   details   of
compliance with  

Navy Regulations. These  

publications
may expand and supplement  

Navy Regulations.  

There
can  be  no  confiict  between  Navy  

Regulations  

and  any
other   publication   issued   in   the   Navy   since   any
conflicting  wording  or  regulation  in  the  latter  is
automatically  cancelled.
STANDARD   ORGANIZATION   AND
REGULATIONS  OF  THE  U.S.  NAVY
Standard  Organization  and  Regulations  of  the  U.S.
Navy,  

OPNAVINST  3120.32  series,  promulgates
regulations  and  guidance  governing  the  conduct  of  all
members of the U.S. Navy.
NAVAL SUPPLY SYSTEMS COMMAND
PUBLICATIONS
This section describes some of the manuals and
publications  that  are  published  by  NAVSUP.
Naval Supply Systems Command Manual
The Naval Supply Systems Command Manual is
issued for the information and guidance of all persons
in  the  Department  of  the  Navy.  It  is  designed  to
standardized  supply  procedures.  The  procedures  in  the
NAVSUP Manual are  

mandatory  unless  otherwise
stated.   The   paragraph   numbering   system   of   the
NAVSUP  Manual,  

shown  in  figure  3-3  consists  of  a
five-digit  paragraph  number  and  its  subparagraph
designators. The following is a breakdown of such a
number.
Explanation— In the paragraph number cited in the
example the first digit designates the volume which in
this case is volume 1; the second digit indicates the
chapter of that volume which in this case is chapter 1;
the third, fourth, and fifth digits indicate the paragraph
of chapter 1 of volume 1 which in this case is paragraph
063. The next four digits are subparagraphs of the basic
paragraph. There are four volumes of the NAVSUP
Manual.  They  are  discussed  in  the  following
paragraphs.
SUPPLY ASHORE, VOLUME II.—

This volume
contains basic supply principles and procedures for
supply  activities  ashore.  These  procedures  include:
Requisitioning and local procurement
Figure 3-3.-Paragraph numbering system.
3-4