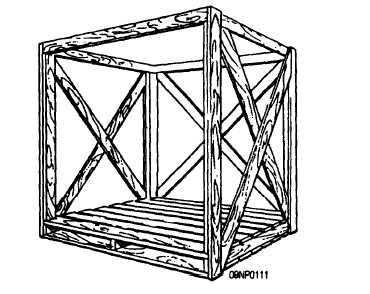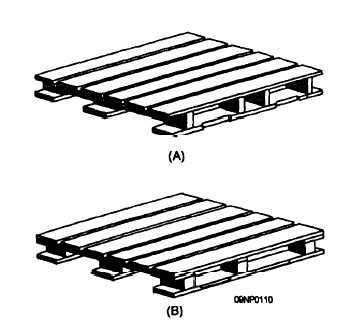 chain may be used depending on the weight of material
to be lifted.
Slings  have  rigid  horizontal  supports  at  the  base.
Usually made of steel bars or pipes that must be of
sufficient strength to distribute the load across the entire
length.
Some slings have movable spreader bars at the top
to prevent the load from being crushed when lifted.
PALLETS
A pallet is a wooden, steel, or aluminum platform
on which supplies are loaded, transported, or stored in
units. Use of pallets permits handling the material with
forklift   trucks,   cranes,   and   other   transporting
equipment.
The standard pallet is a 40- by 48-inch platform that
accommodates   most   packages   and   stores   in
warehouses.  It  is  regarded  as  the  general-purpose
pallet. General-purpose pallets maybe either the flat
type or box type. Flat Pallets may be single-faced or
double-faced.  Single-faced  pallets  (figure  13-11)  have
one platform nailed or bolted to stringers, usually made
of  2-  by  4-inch  material.  A  double-faced  pallet  (figure
13-10) has platforms on the top and the bottom of the
stringers   and   is   excellent   for   stevedoring   and
transit-shed  operations.
The  box-type  pallet,  illustrated  in  figure  13-12,  is
used  for  handling  small-lot  items  or  easily  crushed
Figure  13-12.—Box pallet.
cargo. When discharging items from a ship to a transit
shed,   loading   directly   into   a   box   pallet   saves
considerable time and labor.
Nestable sheet metal pallets are convenient for three
reasons  (1)  the  maintenance  cost  is  low,  (2)  they  save
storage space, and (3) you have no problem keeping
them  sanitary.  Figure  13-13  shows  a  few  single-faced
pallets stowed alongside a stack of sheet-metal pallets.
As   you   can   see,   the   saving   in   storage   space   is
tremendous.
Lightweight aluminum pallets also are used, but are
expensive and difficult to repair.
In addition to the standard pallet there is a 48- by
72-inch stevedoring pallet, which is used primarily for
transporting and storing drummed products and for
stevedoring    purposes.
Pallet   construction   and
illustrations on the stevedore pallet can be found in
NAVSUP P-284-1.
Loading  Pallets
When  a  pallet  is  loaded,  three  things  must  be
Figure 13-11.—Pallet, x 48-inches, four-way entry:
Partial stringers (B) Post canstruction.
(A)
considered: (1) maximum load, (2) stability, and (3)
proper pallet size. The pallet must pass through all
doors,  aisles,  and  hatches  likely  to  be  encountered.  The
stability of the material on the pallet must be considered
and a decision made as to the type of pallet to use.
Figure 13-14 shows the recommended way to load
material on a pallet. The size of the boxes being loaded
will  determine  their  arrangement  on  the  pallet.  A
standard loading pattern is not always appropriate.
13-5