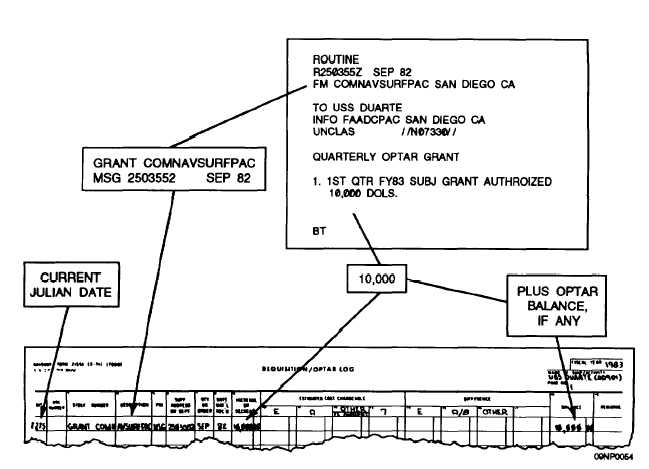 Figure  10-1.—Posting OPTAR grant from TYCOM.
file are forwarded on the 10th, 20th, and last day of the
month  to  the  appropriate  DFAS.
F i l e    2 — U n f i l l e d    O r d e r    C a n c e l l a t i o n
Document/Lists   For   Transmittal.   All   confirmed
cancellations  of  requisitions  and  administrative
cancellations  of  unfilled  orders  "over  threshold  are
held in this file for submission to the DFAS on the 10th,
20th, and last day of the month. They are submitted in
listing  format  showing  document  number,  quantity
canceled  unit  of  issue,  fund  code,  canceled  value,
whether it is a partial or total cancellation, and if it is an
above  threshold  administrative  cancellation.
File  3—Returned  DAO  Listings  As  the  DFAS
listings  are  reviewed  and  annotated  the  original  is
placed in this file. The contents are returned to the
DFAS with the next OPTAR Document Transmittal
Report,  (NAVCOMPT  Form  2156).
POSTING TO THE
REQUISITION/OPTAR LOG
All  request  documents  must  be  entered  on  the
Requisition/OPTAR  Log,  NAVCOMPT  Form  2155.
These documents include requisitions on DD Forms
1149 and 1348, purchase or delivery on the DD Form
1155   series,   purchase   on   STD   Form   44   when
authorized, and imprest fund reimbursement voucher,
STD  Form  1129.  When  the  DD  Form  1155  or  STD
Form 44 is used, or when an imprest fund transaction is
made,  a  "money  value  only"  (MVO)  DD  Form  1348  or
NAVSUP Form 1250-1 must be prepared, using the data
from  these  forms.  When  discussing  unfilled  order
documents in this chapter, we are referring to the DD
Form  1348  or  NAVSUP  Form  1250-1.
"Unfilled  order"  is  a  general  term  used  to  refer  to
any document that requirements a charge to the OPTAR
and  that  has  not  been  matched  with  a  corresponding
expenditure  document  by  the  DAO.  When  purchasing
to  ship's  OPTAR  transactions,  unfilled  orders  are  also
sometimes   referred   to   as   "obligations."   These
documents   become   "filled   orders"   or   "liquidated
obligations"  after  matching  expenditure  documents  in
the  DAO.
The   DD   Form   1348   is   prepared   and   copies
distributed   according   the   NAVSUP   P-485.   The
hardback copy is filed in the Material Outstanding File,
10-4