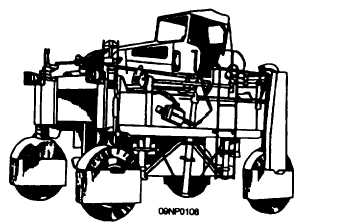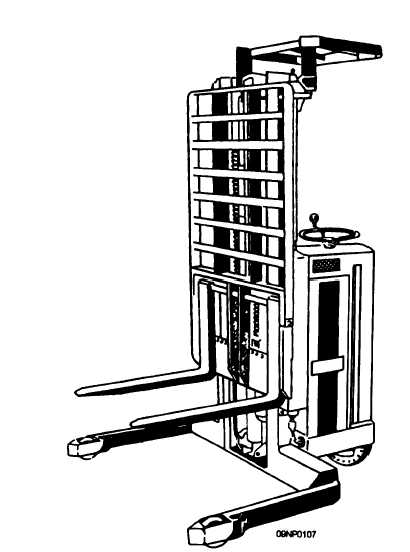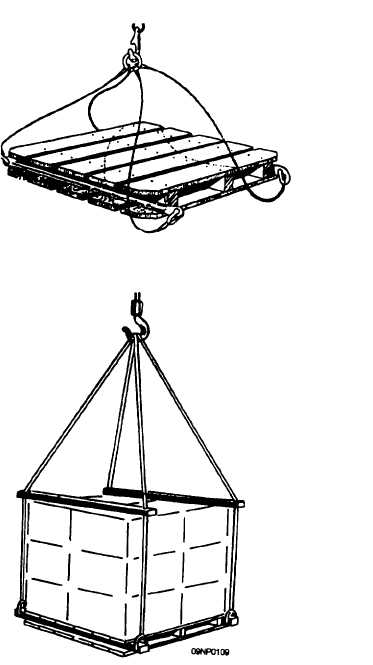 Figure 13-8.-Tiering truck.
electric-powered type that has a load capacity of 4,000
pounds and a lifting height of 68 to 150 inches.
STRADDLE  TRUCK
The straddle truck is a diesel- or gasoline-powered
four-wheel vehicle designed to straddle, pick up, and
transport loads of long and heavy supplies such as pipe,
lumber, and steel. The straddle truck (figure 13-9) is
used   as   an   efficient   conveyance   for   intrastation
movement  of  palletized  material  at  many  supply
activities.  Straddle  trucks  offer  a  faster  and  more
efficient method of moving unitized pallet loads over
intermediate distances than the tractor-trailer train.
PALLET SLING
The  pallet  sling  (figure  13-10)  is  used  to  handle  a
palletized load for overhead lifting by a crane or ship's
boom. Slings are normally made of cable, but line or
Figure 13-9.-Straddle truck.
Figure  13-10.—Pallet  slings.
13-4