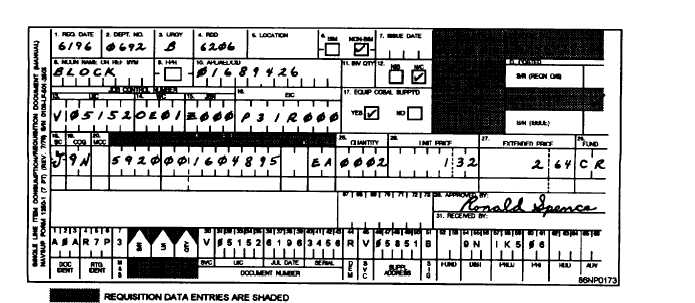 Figure 8-5.—Example of NAVSUP Form 1250-1 for an NIS item after entries of requisition data for chargeable material.
Figure  8-6.—Example  of  stock  records  Storekeeper  entries  for  NC  items.
center code), and quantity indicated in the NAVSUP
Form 1250-1 will be posted to the stock record to record
the  demand.  Since  the  item  was  not  issued  from  supply
department  stock,  the  existing  stockyard  balance  will
not be reduced. Whether or not an applicable stock
record is maintained, the stock records Storekeeper,
prior to distribution of the NAVSUP Form 1250-1, will
complete the data blocks as shown in figure 8-8.
TRANSFERS
As  prescribed  in  OPNAVINST  3120.32  

(Standard
Organization  and  Regulations  of  the  U.S.  Navy),
material transfer is one of the general duties of the
supply   officer.
Unless  otherwise  directed  by  the
commanding officer, the supply officer is responsible
for approving transfers of all types of material (except
medical/dental supplies in end-use ships, and fuel).
Although such responsibility need not be delegated by
letter, it should be specified in the

Ship's Organization
and Regulations Manual

(SORM). Before transfer of
material  (other  than  unserviceable  or  excess  items)  to
another activity, the supply officer makes sure that it is
not currently needed by the department(s) that normally
use it. In the absence of the supply officer, material
transfers may be approved by the duty supply officer or
8-6