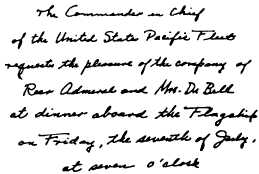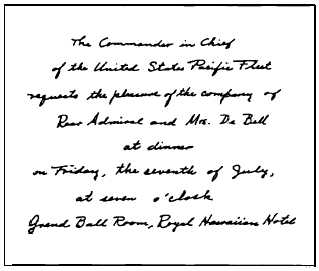 or  other  untidiness),  and  the  contents  must  be  properly
centered.
ENGRAVED INVITATIONS
When the ship sponsors a large social function,
invitations may be wholly or partially engraved. If they
are engraved for only one function, they are either
wholly engraved (with the word  

your

substituted  for  the
guest's name) or wholly engraved except for the guest's
name which is written in. Partially engraved cards are
more  practical  since  they  can  be  used  for  many
occasions  (fig.  4-1).  Space  is  left  for  inserting,  in
longhand, the guest's name, the type of function, and the
date and time the affair will take place.
WORDING
Figure  4-2  is  a  formal  written  invitation.  Note
several things. The invitation is written in the third
person, present tense. The name of the host (in this case
his or her title) is in the third person, the word  

requests
is in the present tense, active voice. The name or title of
the host is always shown in full, although the guest's
name  need  not  be  (the  words  

your  company   

are
permissible). The date and hour are written in words;
that is, if dinner were to start at 7:30 p.m., it would be
shown as "half past seven o'clock." Numbers may be
used in an address. The only time you use punctuation
is  when  words  need  separation  on  the  same  line.  You
will seldom see punctuation in formal invitations or
replies.
The  general  format  for  wording  the  formal
invitation is as follows: Line 1, name or title of the host,
Figure  4-1.-Partially  engraved  invitation.
Figure  4-2.-Formal  written  invitation.
(Fig. 4-2 uses two lines because of the length of the title.)
This is followed by (1) the invitation, (2) the name(s) of
the guest(s), (3) the type of function, (4) the date, and
(5) the time. When at other than the host's home, (6) the
address is centered below the line stating the time or in
the lower right corner (fig. 4-3).
Many invitations contain the letters  

R.s.v.p.

(or
R.S.V.P.)

in the lower left corner. This is a French phrase,
Repondez s'il vous plait,  

meaning Please reply. The
phrase. A favor of a reply is requested, is sometimes used
instead. Thus, the host will know in advance the number
of guests to expect.
When a function is held aboard ship, a schedule of
boats and the dock from which they will leave may be
included. This is usually shown in the lower left comer.
Figure 4-3.-Formal written invitation to an event in a public
ballroom.
4-7