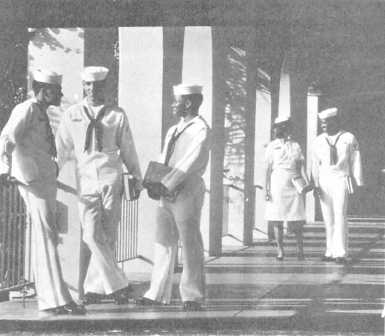 CHAPTER 5
EFFECTIVE COMMUNICATIONS
INTRODUCTION
The  ability  to  communicate  effectively  is  essential.  Communicating  is  more  than  speaking;  it  involves
your  entire  presence.  How  you  present  yourself  has  a  great  deal  of  impact  on  your  students'  interest  and
desire  to  learn.  As  a  Navy  instructor,  you  must  be  able  to  communicate  your  knowledge,  skills,  and
experiences to the students in order to facilitate the learning process. How you communicate often has more
impact than the content of your message. The skills and techniques explained in this chapter will assist you in
strengthening your ability to communicate effectively.
EFFECTIVE COMMUNICATION PRINCIPLES
The  purpose  of  effective  communications  in  a  training  environment  is  to  ensure  students  accurately
understand  the  material  presented  by  the  instructor.  There  are  basically  two  principles  you  need  to
understand that have to do with communicating effectively: (1) the identification and removal of barriers and
(2) the communication process itself.
BARRIERS TO EFFECTIVE COMMUNICATION
The    existence     of     certain     barriers
increases
the
potential
for
poor
communication.   By   being   aware   of   these
barriers,  you  can  reduce  them  and  enhance
the clear understanding of your students.
La

ck of Common Core Experience
One barrier is the lack of common core
experience.   You   are   unlikely   to   find   any
group   in   which   students   have   the   same
common core experience. For example, if you
say   that   a   kiwi   tastes   like   a   kumquat,
students  who  have  tasted  one  would  have
the     experience     to     make     the     proper
relationship.
32