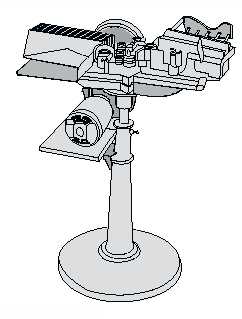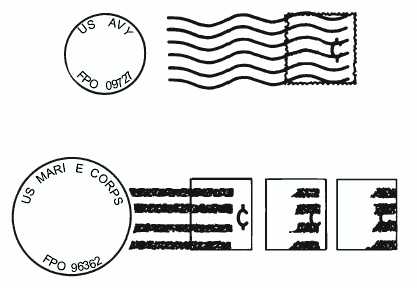 The  backdating  of  the  postmark  on  mail  is
expressly  forbidden,  except  when  a  specific  written
authorization is granted to provide philatelic treatment
on a new stamp issue beyond the issuance date.  Such
authority is extended only when public demand for a
specific  first-day  issue  exceeds  daily  cancellation
capabilities.  Never backdate mail even for a friend.
POSTMARKING EQUIPMENT
The USPS furnishes all canceling machine dies,
hand  postmarking  and  canceling  equipment.
Canceling machine dies and postmarking stamps must
contain the legend U.S. Navy and the FPO number or
name of the ship and hull number as applicable as well
as  the  month,  day,  and  year.    Only  USPS-supplied
black ink is to be used for canceling and postmarking
purposes.
APPLYING THE POSTMARK
If you are on a large ship or at a shore activity, you
may  have  a  canceling  machine  (see  figure  9-9).
However,  most  ships  and  small  commands  use  the
hand canceller because the volume of outgoing mail
does not warrant the use of a canceling machine.  Do
not  postmark  over  the  stamp(s).    If  more  than  one
stamp has been used, cancel the stamp farthest to the
left  and  those  to  the  right  of  it  with  the  tips  of  the
canceling bars.  Cancel the last stamp to the left with
the postmark and canceling bars, and ensure that the
postmark  does  not  hit  the  stamp  (see  figure  9-10).
When postmarking and canceling mail:
·   

The date of mailing (month, day, and year) must
be included in all postmarking devices.
·   

The a.m. or p.m. indicator must not be used in
any postmarking device.
PHILATELIC CANCELLATIONS
Occasionally  you  will  receive  a  request  from
collectors  to  apply  a  postmark  on  certain  stamped
cards and envelopes.   It is in the best interest of the
Navy to provide this service to philatelists because of
the public relations value. A philatelist is a person who
collects  and/or  studies  postage  stamps.
Philatelic
service must be carried out within the resources of your
post office and should not be provided if it interferes
with  regular  business.
The  USPS  will  release
9-21
PCf0909
Figure 9-9.—An example of a canceling machine.
N
22
20
20
20
N
1 NOV
1 NOV
2000
2000
POSTMARKED AND CANCELED BY
CANCELING MACHINE.
PCf0910
Figure 9-10.—Examples of canceled stamps by canceling machine and hand device.