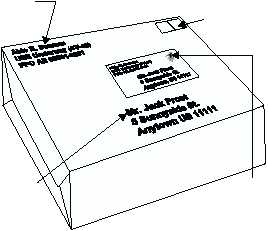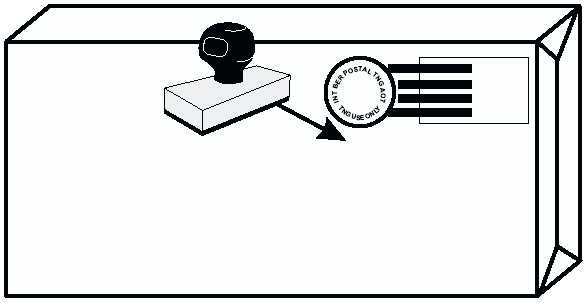 Attached Letters
Occasionally,  a  parcel  may  be  presented  for
mailing at the Standard Mail (B) rate with a letter or
other First-Class Mail attached. This is legal as long as
the envelope is placed on the address side of the parcel.
The name and the address of the sender and the name
and address of the addressee should be placed on both
the  parcel  and  the  envelope.    If  both  names  and
addresses do not appear on both pieces, the sender's
name and address must be placed on either the parcel or
envelope and the name and address of the addressee
must  be  placed  on  the  other  piece  (see  figure  4-7).
Postage  at  the  First-Class  rate  must  be  paid  for  and
affixed to the attached letter.   The attached envelope
may be marked First-Class.
Enclosed Letters
Normally, when mail of a higher class is enclosed
with mail of a lower class, the rate of postage charged
for the entire piece or parcel is that of the higher class.
However, letters (First-Class Mail) may be enclosed in
Standard  Mail  (B)  parcels  subject  to  the  following
conditions:
·   

Postage at the First-Class rate must be paid for
each letter.
·   

The letter(s) is/are placed on top of other items in
the parcel when practical.
·   

The  total  amount  of  postage  for  each  letter  is
placed on the outside of the parcel.
The postage for the letter(s) may be added to that of
the parcel and the total amount paid together, or the
postage for the letter(s) may be affixed separately from
the  postage  for  the  parcel.
The  endorsement
FIRST-CLASS MAIL ENCLOSED must be placed on
the parcel below the postage and above the address.
SPACE AVAILABLE MAIL (SAM)
Parcels  mailed  at  the  surface  postage  rates,  are
airlifted  to,  from,  or  between  overseas  military  post
offices outside the 48 contiguous states.  These parcels
must be marked "SAM" on the address side, below the
postage  and  above  the  addressee's  name.
These
maximum weight and size limits apply when mailed
from:
4-14
PCf0406
Able B. Seaman
USS Underway (CV-66)
FPO AE 09561-0001
SAM
STANDARD MAIL (B)
DATE
Mr. Jack Frost
5 Sunnyside St.
Anytown US 11111
Figure 4-6—Endorsement on a Standard Mail (B) article.
PCf0407
NAME

AND
ADDRESS
OF
ADDRESSEE
SENDER'S
NAME AND
ADDRESS
STAMPS ON
PARCEL
LETTER
POSTAGE
ON
ENVELOPE
Figure 4-7.—How to affix a First-Class letter to a parcel.