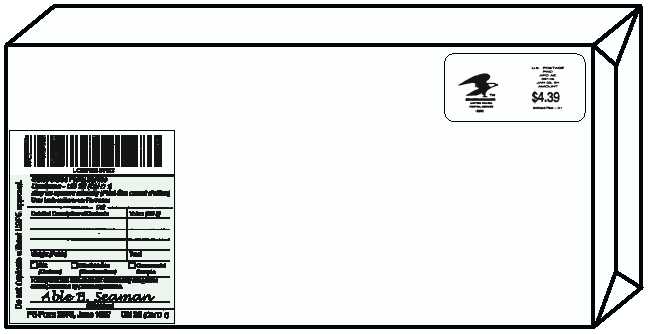 Block 12:   The accepting clerk stamps with an APDS
the "Mailing Office Date Stamp" block of Copy 3.
NOTE:  Copy 4 of PS form 2976-A is detached by the
accepting clerk and maintained at the post office for 30
days.
ATTACHING CUSTOMS DECLARATIONS
Space  permitting,  all  customs  forms  must  be
placed on the address side of the article, preferably to
the bottom left-hand side.   See figure 4-14.   PS Form
2976  has  a  self-adhesive  backing.
Remove  the
protective covering before affixing.
After the clerk dates copy 3 and detaches copy 4 of
the  PS  Form  2976-A,  the  form  set  is  returned  to  the
customer.
The  customer  must  place  the  form  set
(copies 1, 2, and 3) into the envelope (PS Form 2976-E)
and affix the envelope to the package.  PS Form 2976-E
is a clear plastic envelope with a peel-and-seal flap.
BONA FIDE GIFTS
Military and civilian personnel who are authorized
to use the Military Postal Service located outside the
CTUS, may send duty-free, unsolicited gifts through
the mail to addressees in the U.S. provided that:
·   

The  gift  does  not  exceed  $100  in  value  ($200
when  sent  from  Guam,  American  Samoa,  and
the Virgin Islands).
·   

The  recipient  does  not  receive  more  than  one
such  shipment  on  the  same  day.
Gifts  that
exceed this retail value limitation will be subject
to  payment  of  duty,  on  the  entire  value  of  the
shipment,  by  the  person  receiving  the  gift.   A
person mailing a gift may NOT pay the duty in
advance.
Gifts that are intended for several people may be
sent inside one parcel, to a single addressee

, 

provided
that:
Each individual gift is wrapped and bears the name and
address   of   the   recipient,   and   is   endorsed
"UNSOLICITED GIFT."
The  outer  parcel,  containing  the  multiple  gifts,  is
endorsed  on  the  address  side  to  show  the  number  of
individual  gifts  enclosed  and  value  information.   For
example, a parcel containing 3 individual gift parcels,
for  separate  individuals,  would  be  endorsed  "THREE
UNSOLICITED  GIFTS  ENCLOSED.
NO  ONE
INDIVIDUAL  RECEIVING  GIFTS  EXCEEDING
$100 IN VALUE" or similar wording.
AMERICAN GOODS RETURNED
Articles    that    are    grown,    produced,    or
manufactured in the U.S. and which, after having been
exported, have not increased in value or improved in
condition, may be mailed back to the U.S. free from
customs duty. However, a properly completed customs
declaration shall be attached to the address side of the
4-21
PCf0414
Able B. Seaman
USS Underway (CV-66)
FPO AE 09561-0001
Mr. Jack Frost
5 Sunnyside St.
Anytown US 11111
SAM
1 pair of leather shoes
65.00
65.00
4 lbs 3 oz
X
Figure 4-14—Parcel depicting placement of customs form.