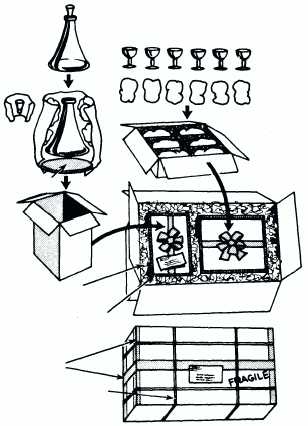 An essential requirement for proper packaging is
an  acceptable  container.     Acceptable  containers
include corrugated or solid fiberboard, chipboard (for
small items), metal cans, tubes or boxes, wooden boxes
or  crates,  fiber  mailing  tubes  with  metal  ends,  and
envelopes.   The criteria for acceptability depends on
the container's ability (strength) to retain and protect
contents during normal mail handling.   Although the
responsibility for proper packaging of an article rests
with the customer, the clerk must be the judge of its
acceptability.  Be sure you understand how to check an
article for proper packaging and wrapping.
BOXES
Paperboard  boxes,  similar  to  suit  boxes,  are
acceptable for easy and average loads up to l0 pounds.
Metal-stayed paperboard boxes are acceptable for easy
and  average  loads  up  to  20  pounds.     Solid  and
corrugated  fiberboard  boxes  are  acceptable  for  easy
and  average  loads  up  to  the  weight  limits  shown  in
table 3-1.
As you can see, an average load weighing up to 20
pounds  requires  a  fiberboard  box  with  a  test  burst
strength of l25 pounds. For a difficult load a fiberboard
box with test burst strength of l75 pounds is required
for a 20-pound load.  Normally, the test burst strength
of a fiberboard box is indicated on the box somewhere
in the area as shown in figure 3-2.
PACKAGE SURFACES
Package surfaces that will not retain an adhesive
stamp, postage meter impression, or ballpoint pen or
pencil marking are not acceptable. Address labels, and
particularly  envelopes,  should  be  firmly  sealed  to
containers. Mailings with labels and envelopes that do
not meet this requirement may be rejected if they cause
problems in processing.
3-2
Maximum
Box Grade
Weight of Box and Content (pounds)
Length and Girth
(inches)
Easy or Average Load
Difficult Load
20
67
125
40
20
100
175
65
45
108
200
70
65
108
275
70
108
350
Table 3-1.—Fiberboard box test strengths used in selecting a container for mailing.
CUSHION
SEPARATELY
CUSHION
SEPARATELY
CUSHIONING
PACKAGE
IN SEPARATE
BOXES
CUSHIONING BOTTOM,
SIDES AND TOP
SEALING AND
CLOSURE TAPE
REINFORCEMENT TAPE,
BANDING
FIBERBOARD STIFFENERS
PCf0301
Figure 3-1.—Cushioning fragile items for mailing.