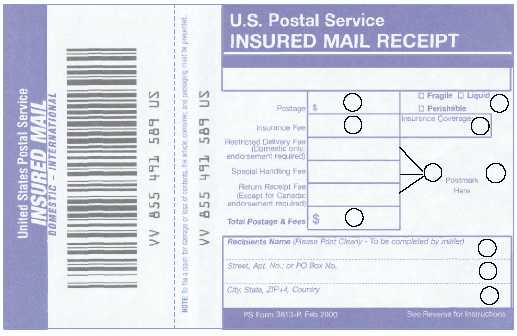 transportation.   Special handling service is available
ONLY  for  First-Class  Mail,  Priority  Mail,  and
Standard Mail (B) (Parcel Post, Bound Printed Matter,
Special Standard Mail, and Library Mail).   It can be
combined with insured articles and return receipt for
merchandise.
DO NOT charge a surcharge when standard mail
articles are mailed special handling, but if they qualify
for a discount, give a discount.
Fee
The applicable special handling fee must be paid in
addition  to  the  appropriate  rate  of  postage  for  each
article for which special handling service is requested.
Refer to Module R of the DMM for the correct fee.
Endorsement
The endorsement "SPECIAL HANDLING" must
appear, prominently, above the address and to the right
of the return address on each piece for which special
handling service is requested.  See figure 5-7.
CERTIFICATES OF MAILING
At times postal customers may want a receipt as
evidence of mailing an article, but they do not want to
register, certify, or insure the article.  The mailer may
be provided a receipt for ordinary mail by purchasing a
Certificate  of  Mailing  (PS  Form  3817).   Advise  the
mailer that certificates of mailing furnish evidence of
mailing only.  Certificates of mailing do not insure the
article  against  loss  or  damage.    A  signature  is  not
obtained  from  the  addressee  for  the  article.    This
service is available for all classes of mail.
Certificates of mailing are prepared by the mailer.
The finance clerk collects the fee and gives the mailer
an equal amount of stamps.  The customer should affix
the  stamps  in  the  upper  right-hand  corner  of  the
certificate.
The   finance   clerk   compares   the
information on the form with that on the article and
cancels  the  stamp(s)  with  a  flagstamp  cancellation
device.
Fee
The  fee  paid  for  a  Certificate  of  Mailing  is  in
addition to the postage required to mail the article(s).
The fee for a Certificate of Mailing can be found in
Module R of the DMM.
Completing the Required Form
PS Form 3817 (see figure 5-8), is used for each
piece of ordinary mail of any class.  As stated earlier,
the mailer completes the form before presenting the
article to a clerk for mailing.  Once the correct postage
and  fee  is  collected,  the  postage  is  affixed  on  the
article, and the stamp(s) or meter tape used for the fee
is affixed to the space provided on the PS Form 3817.
5-6
PCf0505
10
2
1
4
3
5
6
7
8
9
Figure 5-5.

An example of an Insured Mail Receipt PS Form 3813-P.