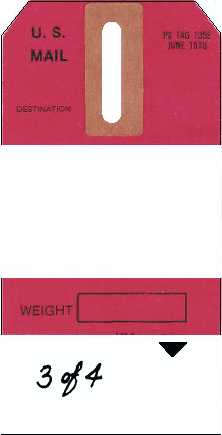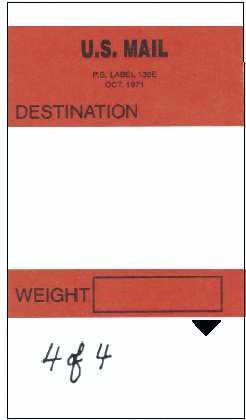 file the original copy with the registry balance sheet
that was prepared the day of dispatch.   The suspense
copy is then destroyed.
DISPATCHING MAIL DIRECTLY TO
MILITARY POST OFFICES
When  registered  mail  is  dispatched  directly  to
another military postal activity, PS Form 3854 should
be prepared, in triplicate, to account for each pouch
and  outside  piece.     In  addition,  the  following
procedures apply:
·   

The registered number of outside pieces should
be preceded by the letter "O" and the number of
numbered seal pouches by the letter "S."
·   

The office of origin of each registered piece must
be shown.
·   

The  Postal  Clerk  entrusted  with  delivery  must
sign as receiving postmaster on the triplicate bill.
The  total  number  of  pieces  received  must  be
shown in the appropriate space to the left of the
signature.
7-12
1
2
3
4
FPO  AE  09561
AMF KENNEDY NY
REGISTERED
JFK
090869086
0030000352
Bg
T
00300
3.2 kgs
Pcf0712
Figure 7-12.—An example of a registered pouch slide label.
PCf0713
KOREA
VIA
KUZ
KUNSAN
KUZ
Figure 7-13.—An example of a PS Tag 135-E, airport coded
tag for registered mail.
PCf0714
CANAL ZONE
VIA
HOW
HOWARD AFB
Figure 7-14.—An example of a PS Label 136-E, airport coded
label for registered outside mail.