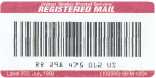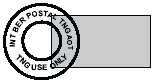 Block 4a: Enter the article number.  (Example: RR 123
456 789 US, VV 855 491 592 US, 7000 0600 0023 4109
6776, or EH716870065US.)
Block 4b: Check one block for the type of service being
used.
Block 5:  Leave items 5 through 8 blank.
NOTE:    Items  numbered  5  through  8  are  completed
when  the  article  is  delivered  to  the  addressee  or
authorized agent.
On  the  reverse  side,  legibly,  enter  mailer's  full
name,  street  address,  city,  state  and  ZIP  Code,  or
APO/FPO number.
Endorsement
Mail for which return receipt service is requested
must  be  endorsed  "Return  Receipt  Requested"  or
"Return Receipt Requested Showing Address Where
Delivered" based on the fee paid.   The endorsement
must be placed above the delivery address and to the
right   of   the   return   address,   taking   care   not   to
over-strike  or  obliterate  any  other  endorsements  or
portions of the address (see figure 5-10).
Request for Delivery Information/Return
Receipt After Mailing
After  an  accountable  article  has  been  mailed,  a
return  receipt  may  still  be  obtained.    To  do  so,  the
mailer must do the following:
·
Complete  Section  2  of  PS  Form  3811-A,
Request   for   Delivery   Information/Return
Receipt After Mailing.
·
Attach the proper amount of postage for the fee
to the PS Form 3811-Aif not paid previously and
postmark using APDS.
·
Mail the entire PS Form 3811-Ato the post office
of delivery.
The post office of delivery will provide the mailer
with the date of delivery and the name of the person
who signed for the article.  Neither the signature of the
person who signed for the article nor the address of
delivery will be provided.
Duplicate Return Receipt
In the event the mailer has not received a return
receipt,  a  duplicate  may  be  requested  under  the
following conditions:
·
A reasonable period of time has passed since the
article was mailed.
·
It has been within 1 year since the article was
mailed.
·
The mailer has a receipt showing that a fee was
paid for this service. (Certified mail receipt must
have been postmarked at a post office.)
When a duplicate return receipt is requested, you
should  assist  the  mailer  in  completing  a  PS  Form
3811-A.   There is no charge for obtaining a duplicate
return receipt.
A request for a duplicate return receipt or a copy of
the  delivery  record  for  Express  Mail  must  be  filed
within 90 days after the date of mailing.
5-10
PCSN JACK FROST
NETPDTC
6490 SAUFLEY FIELD RD
PENSACOLA  FL 32509
MS FRANNIE FLAGGLEMEYER
331 E. MAIN ST
BERLIN   WI   54923
SHOWING ADDRESS WHERE DELIVERED
RETURN RECEIPT REQUESTED
PCf0510
DATE
Figure 5-10.

An example of proper placement of a Return Receipt endorsement.