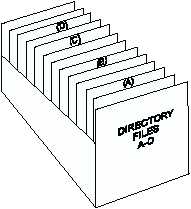 number, mailing address, and, whenever possible, the
individual's previous mailing address.
Personnel receiving mail for accompanying family
members at their military address will list their family
members  on  the  sponsor's  directory  card.     If  an
individual  has  family  members  with  a  different  last
name, a separate card should be prepared and filed.
This  card  should  be  cross-referenced  with  the
sponsor's card so it will be maintained in an identical
manner.  A separate card should also be prepared and
cross-referenced  for  individuals  who  have  a  name
change.
The postal directory file for individuals who have
departed should include the date departed, purge date,
forwarding address, and, if the address is a military
unit, a projected reporting date (due-in date).
If personnel are transferred for further assignment
and their new permanent duty station is not known at
the  time  of  transfer,  transferees  should  furnish  you
with a nonmilitary address to which you can forward
their mail until they arrive at their new duty station.  If
this  is  not  possible,  the  change  of  address  card  is
endorsed to indicate the activity to which reporting for
further assignment, if known, and the person's status;
for  example,  "Transferred  to  (enter  the  name  of  the
activity)  for  further  assignment."   When  individuals
report to their ultimate duty stations, they should send
you  a  change  of  address  card  showing  their  new
permanent address.  When you receive directory cards
11-2
AOf1101
NOTICE OF CHANGE OF ADDRESS
OPNAV 5110/5 (Rev 3-90)
S/N 0107-LF-0092500
NAME (Last,  first,  middle)
PISTOL, VERRY C.
S-1 DIV
USS UNDERWAY (CV-66)
FPO AE 09561-0001
S-1 DIV
USS NEVERSAIL (CG-10)
FPO AE 09556-0001
SK1
888-88-8888
23 JUN 01
RANK/RATE
DATE
NEW ADDRESS 

(Consult SNDL for address)
OLD ADDRESS 

(Attach mailing label for publisher)
ESTIMATED REPORTING DATE
DEPENDENT'S NAME (If applicable)
Connie J.
Marry L.
Tom E.
SIGNATURE
ITEM
YES
NO
MAGAZINES
NEWSPAPER
THIS SPACE FOR POSTAL CLERK
*U.S.GPO: 1993-0-0704-079/80671
SOCIAL SECURITY NUMEBR
INDIVIDUAL'S NAME
GRADE
ORGANIZATION
DEPENDENTS
PRIVACY ACT STATEMENT: Authority:  Tile 39 USC and DOD/US Postal Service Agreement, 2 Feb 59
PRINCIPLE PURPOSES:  To route or forward (directory) mail. ROUTINE USES:  Use by military and civilian personnel in mail functions.
Data are inspected by commanders, postal officers, and military and civilian inspectors. Disclosure is voluntary; however, failure to
provide the requested information could result in inability to forward mail.
FORWARD SECOND CLASS MATTER FOR 60 DAYS
Figure 11-1.—An example of OPNAV Form 5110/5.
AOf1102
Figure 11-2.—An example of a directory card file with
alphabetical separators.