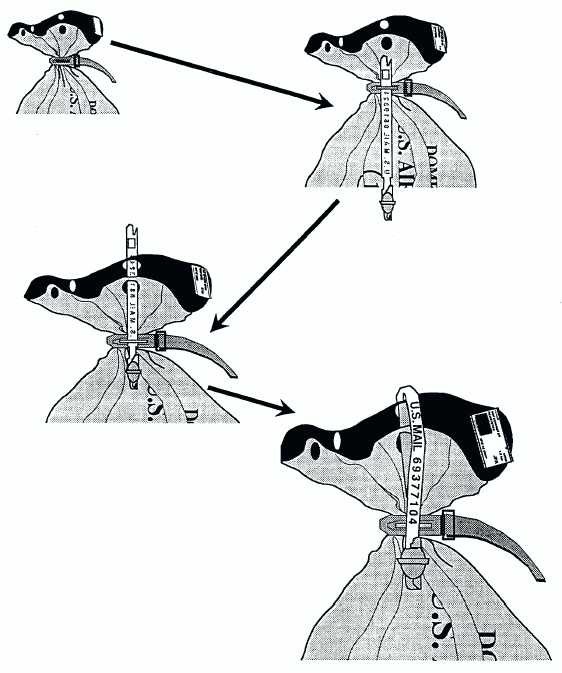 post office of origin. There is, however, one exception,
the office of origin for all Navy mobile units must show
both the ship's name and ZIP Code.
Enclose  the  original  and  third  copy  of  the
completed  PS  Form  3854,  together  with  a  pre-
addressed  return  envelope,  in  a  USPS  EP-9  registry
jacket envelope (see figure 7-9).   Securely attach the
EP-9 envelope to the outside of the last registry pouch.
If there are no pouches in the dispatch, use an EP-11
outside  mail  registry  bill  envelope  (see  figure  7-16)
and attach the envelope to the last piece in the dispatch.
The duplicate copy of the PS Form 3854 should be
held  by  the  dispatching  activity  as  a  suspense  copy
until the original is returned by the receiving activity.
Upon receipt of the original signed PS Form 3854 from
the receiving activity, the dispatching activity should
7-11
PCf0711
Slide the small plain end of the seal,
with the number down, through the
bottom of the staple
Close hasp over the staple
Thread the  seal through
two grommets(eyelets)
Bend the seal back and thread the plain end over the
staple and into the head of the seal so the number
appears on the outside of the seal.  You should hear a
"click" sound when the seal locks in place.
Figure 7-11.—An example of proper closure and securing of a registered pouch.