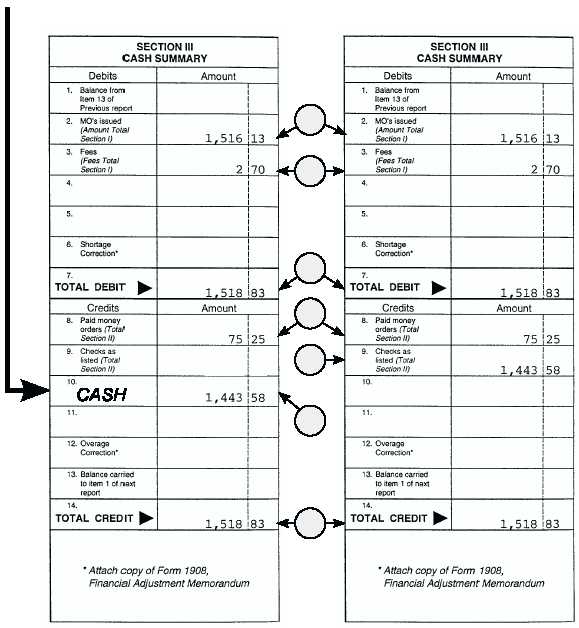 Block 20: If CASH is being remitted instead of a check,
enter the word CASH in Item 10 and enter the dollar
amount in the amount column.
Block  21:
Add  Items  8  and  9,  or  8  and  10  (as
appropriate),  and  enter  the  total  in  Item  14  TOTAL
CREDIT.
Remarks and Closing Section
The  bottom  of  PS  Form  6019  (see  figure  8-32)
contains the REMARKS section and signature blocks
for the clerk submitting the report and the official who
reviews  and  verifies  the  report.
It  also  contains  a
postmark validation block requiring an imprint of the
unit's APDS.   Follow the instructions given below to
complete this part of the form.
Block 22:  REMARKS.  When two or more clerks sell
money orders on the same day

, 

list the other clerk(s) by
name in the REMARKS section.  Also annotate unusual
situations, such as money orders issued out of sequence
in this area.
8-45
PCf0831
15
16
17
18
19
20
21
If   submitting   your   report   with   a   cash
remittance   instead   of   a   check,   enter   the
word   "CASH"   in   Section   III,   line   10   and
the   dollar   value   in   the   "Amount"   column.
Figure 8-31.—An example of a completed Section III   Cash Summary, PS Form 6019.