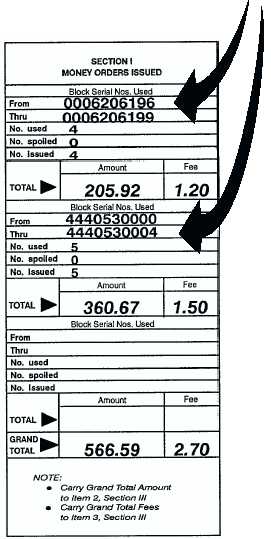 –  

Enter the amount of the overage in Section III,
item  4,  PS  Form  6019  and  the  notation  SEE
REMARKS.
–  

Make  a  statement  (see  item  5,  figure  8-34),
listing  the  missing  voucher  by  number  in  the
Remarks section of PS Form 6019.
8-47
PCf0833
BLOCK 2
BLOCK 1
Add Block 1 and
Block 2 Issued
MOs
Add Block 1 and
Block 2 Fees
Money Order Tape indicating a "split block" business day.
Note that there are two different sets of money order serial
numbers and how they are prepared on the tape.  The total
from each block is combined in the summary area of the
tape.
Illustration  of  how  to  prepare  Section  I
of  PS  Form  6019  to  report  money  order
business  when  there  is  a  "SPLIT  BLOCK"
of  serial  numbers.
Figure 8-33.—An example of Section I, PS Form 6019, and tape showing money order sales from two different series of money
orders.