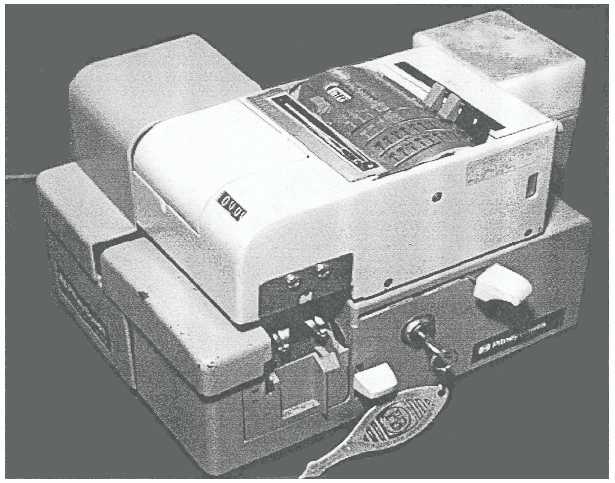 Part 8:  COUNTER WINDOW.  This counter advances
once each time you produce a meter tape.  This counter
cannot be reset manually.
Part   9:
METER   MANUFACTURER.
The
manufacturer's  logo  and  name  are  engraved  on  the
meter.
Part  10:   SERIAL  NUMBER.   The  meter  head  serial
number  is  also  engraved  on  the  meter  and  is  usually
located  above  the  high  denomination  button.
Each
meter  head  has  its  own  unique  number.   Each  time  a
meter tape is produced, this serial number is printed on
the tape indicating which meter produced it.
The following are parts of the meter base:
Part  1:
TAPE  AND  INKER  COMPARTMENT
COVER.  This cover protects the ink rollers and meter
tape from being damaged.   By grasping the upper-left
portion of the machine and pulling it out and to the left,
both the tape and inker compartments are exposed.
Part  2:   INKER.   The  inker  assembly  consists  of  two
absorbent rollers that are mounted on a metal bracket.
The larger of these rollers is saturated when new, with
enough  ink  to  produce  approximately  15,000  tape
stamps.
Part 3:  WATER CONTAINER.  This container is used
to  moisten  tapes  when  the  deflector  switch  is  in  the
"WET" position.
Part 4:  CUSTOMER'S LOCK.  This is a cylinder lock
used for locking the meter on the machine and to lock
the machine against operation.  To place the machine on
the "lock" position, shift the operating lever (Part 5) to
the center position between OPERATE and REMOVE,
then turn the key clockwise one-half turn and remove
the key.
Part 5:  OPERATING LEVER.  This lever can be set at
one  of  three  positions,  REMOVE  (forward  position),
LOCK (center position) or OPERATE (rear position).
The operating lever engages the meter to the machine
when it is moved to the extreme rear position. This lever
must be moved fully forward when you wish to install or
remove the meter or when you wish to engage the meter
when it has been secured.
8-17
PCf0808
Figure 8-8.    An example of a meter head engaged to the meter base.