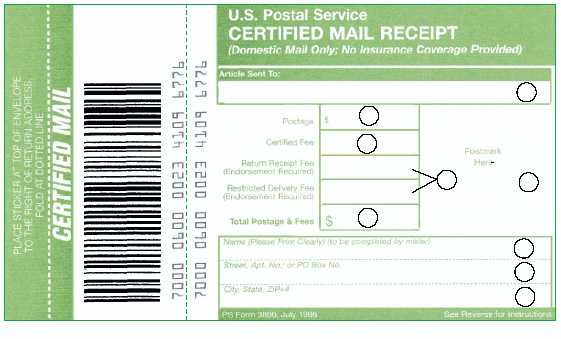 Completing the Mailing Receipt
Accepting  clerks  must  prepare  a  Certified  Mail
Receipt (PS Form 3800), when mail to be certified is
presented at the post office (see figure 5-1).  Complete
this form as follows:
Block 1: Enter name of addressee (individual or firm).
Block  2:    Enter  postage  to  be  collected  (First  Class/
Priority).
Block 3:  Enter certified fee.
Block 4: Enter fee(s) for additional services requested.
Block  5:    Enter  the  total  of  postage  and  fee(s)  to  be
collected.
Block 6: Enter name of addressee (individual or firm).
Block 7:  Enter street address and number.
Block 8:  Enter city, state, and ZIP Code, or APO/FPO
number.
Block 9:  Apply postmark with the APDS.
Certified Mail Endorsement
After  completing  the  form,  detach  the  certified
mail stub from the left side of the PS Form 3800.  Peel
the protective tape from the back of the stub and place
the stub on the address side of the article above the
address and to the right of the return address, leaving
room to affix postage stamps.  For envelopes, note that
a portion of the top of the stub can be folded over the
top of the envelope (see figure 5-2).
INSURED MAIL
Postal insurance is a service that customers may
purchase  to  reimburse  them  for  loss  or  damage  that
may occur to an article after it has been mailed.   To
receive  postal  insurance,  the  customer  must  request
this  service  and  pay  the  applicable  insurance  fee  in
addition to the appropriate rate of postage.  The USPS
will reimburse the customer if loss or damage occurs
while  the  article  is  in  its  custody.    The  amount  the
customer is reimbursed is based on one or more of the
following factors:
·
The amount of insurance requested (based on the
fee and not to exceed the value of the article)
·
Cost or value of the article
·
Cost of any repairs
·
Replacement cost of the article
What Can Be Insured
The following types of mail may be insured:
·
Standard Mail (B)
·
Standard Mail matter mailed at the First-Class
Mail or Priority Mail rate of postage
5-2
1
2
4
3
5
6
7
8
9
PCf0501
Figure 5-1.

An example of a Certified Mail Receipt (PS Form 3800).