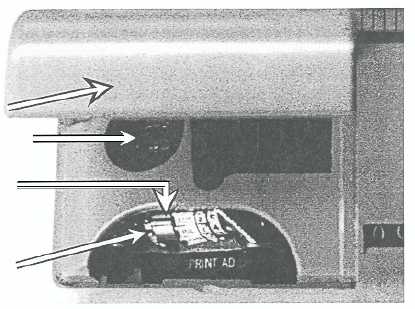 "9," "0," "2," "0," and "1".   DO NOT skip any box or
write decimal periods.
Block  6:    ASCENDING  REGISTER  BEGINNING.
Obtain  this  number  from  the  meter  head's  "TOTAL
(Ascending)" register reading and enter it in the same
manner as explained above for descending.
Block  7:
METER  OPERATOR.
Clerk  accepting
custody of meter enters initials on all three copies.
Block  8:
SUPERVISOR.
Meter  custodian  enters
initials on all three copies.
After the required information has been entered on
PS Form 3602-PO, the meter custodian will issue the
operating lever locking key, the triplicate copy of PS
Form  3602-PO,  and  release  the  meter  to  the  meter
operator.
OPERATING THE POSTAGE METER
Now  that  you  have  the  meter  head  in  your
possession,  you  have  to  engage  it  to  the  meter  base.
But before you can start producing meter tapes, make
sure that
·   

the  power  plug  is  securely  inserted  into  a
grounded electrical outlet,
·   

the operating lever is positioned all the way to
the rear (OPERATE position),
·   the setting levers are positioned all the way up
(indicator window should show 00.00 amount),
and
·   

the date has been set correctly and dater cover is
closed.
To change the date, raise the dater cover and move
the plastic wheels so that the proper date is in line with
the date index (metal ridge).  The day and month can be
changed by turning the proper plastic setting wheels;
the plastic wheel at the left of the date index turns the
day  units  wheel  at  the  right,  and  the  10th,  20th,  and
30th of the month is set by moving the notched wheel
located at the right of the month wheel. The year can be
changed  by  turning  the  individual  metal  printing
wheels (see figure 8-11).
After  changing  the  date,  run  a  "zero"  tape  by
depressing the tape trip lever and verify if the date is
correct.   Also  check  the  ink  tone  on  the  tape.   If  the
imprint is light or uneven, add ink to the ink roller.  DO
NOT over ink the roller or smudged impressions may
occur.
Now that the meter is ready, follow the steps given
below to produce meter tapes.
·   

Set  the  amount  by  sliding  the  SETTING
LEVERS  up  or  down  to  the  correct  amount.
Verify that the INDICATOR WINDOW displays
the selected amount (see figure 8-12).
·   

For  amounts  $.99  or  less,  depress  the  TAPE
TRIP  LEVER  (see  figure  8-13).   For  amounts
$1.00  and  up,  first  press  and  hold  down  the
HIGH   DENOMINATION   BUTTON,   then
depress  the  TAPE  TRIP  LEVER  (see  figure
8-14).
8-20
DATER  COVER
POSTMARK  

DIE
DATE  INDEX
(METAL  RIDGE)
DAY  UNITS  

PLASTIC
SETTING  WHEEL
PCf0811
Figure 8-11.—An example of a postage meter print mechanism.