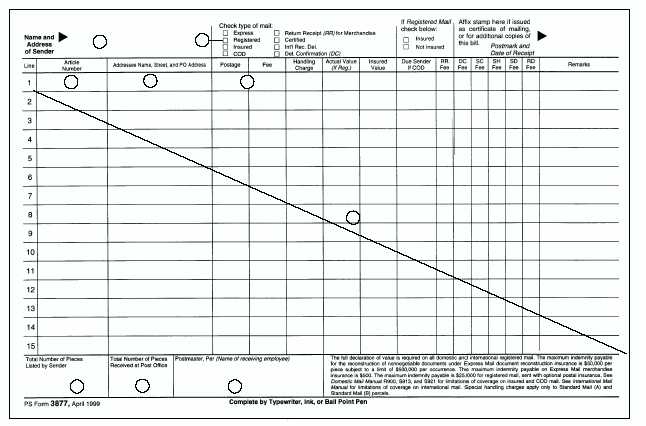 Q7-15.   The post office facility accepting a registered
mail  article  is  considered  as  the  office  of
origin.  (True/False)
Now turn to appendix I to check your answers.
PROCESSING REGISTERED MAIL
FOR DISPATCH
Learning   Objective:
Identify   the
procedures for preparing registered mail for
dispatch.
The  first  step  in  the  processing  of  outgoing
registered mail is separating the pieces by destination.
While you are separating the pieces by destination, a
quick double check should be made to make sure each
piece is correctly endorsed and properly postmarked.
After  you  have  completed  separating  all  of  your
registered  mail  by  destination,  and  have  checked  for
proper endorsements and postmarks, you are ready to
start your dispatch procedures.   Personal and official
registered mail are dispatched in the same pouch, there
is  no  need  to  prepare  separate  pouches.   Registered
mail addressed to APO and FPO addresses should be
pouched  separately  and  sent  to  the  nearest  FMC  or
Navy post office.
MAIL POUCHES AND SACKS
Registered mail must never be dispatched in torn
or  defective  mailbag  equipment.    Mail  pouches  and
sacks  used  for  dispatch  of  registered  mail  should  be
examined to ensure that such equipment is not torn or
otherwise defective.  Any hole renders the equipment
unusable for registered mail.   The selection of proper
mailbag equipment for the transport of registered mail
cannot be overemphasized.
NUMBERED SEAL POUCHES
Now  that  you  have  completed  examining  the
pouch  for  defects,  the  next  procedure  in  the  registry
dispatch process is to enclose all registered mail into
the  pouches.
You  should  enclose  all  parcels  into
pouches,  if  possible,  to  prevent  handling  as  ordinary
mail.
PS Form 3854, prepared in duplicate, is used as an
inside bill to document registered mail, which is being
7-8
1
3
4
8
9
2
6
5
PCf0707
7
Figure 7-7.—An example of a PS Form 3877.