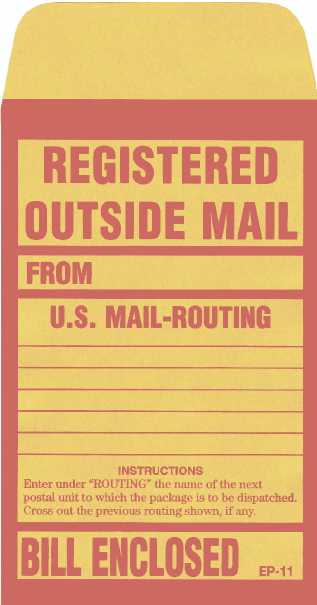 and  forwarding,  if  necessary,  as  does  outgoing
registered mail.  The individual responsibility that has
been  stressed  for  outgoing  registered  mail  in  this
chapter  is  also  true  in  the  processing  of  incoming
registered mail.
RECEIPT OF REGISTERED MAIL
Immediately upon receipt, the numbered seal of
each pouch and the registered number of each outside
piece (OSP) should be verified with those listed on the
appropriate  documentation  that  accompanies  the
registry dispatch (PS Form 3854, PS Form 3830-A, DD
Form 1384, or OPNAV Form 5110/9).  In the event a
registered dispatch is received without documentation
from  a  U.S.  commercial  air  carrier,  the  receiving
activity  should  immediately  prepare  a  substitute  PS
Form  3854  with  the  endorsement  DUPLICATE-
ORIGINAL NOT RECEIVED.  At Navy post offices
PS Form 3854 must be completed in duplicate.   The
original PS Form 3854 serves as the record of receipt.
The duplicate copy should be returned to the office of
the dispatching activity to complete its records.
Military postal activities receiving "tracer action"
on registered mail from a dispatching activity should
immediately  determine  if  the  registered  article  was
received.    If  received,  the  receiving  activity  should
immediately contact the dispatching activity by phone,
E-mail, or naval message, sign the duplicate form, and
return it to the dispatching activity.  If it is determined
that registered mail was not received at the intended
destination,  then  follow  the  procedures  that  will  be
discussed  in  the  "Irregularities  in  Receipt"  section
later in this chapter.
Hand to Hand
When receipting for registered mail on PS Form
3854 from an individual, all copies of PS Form 3854
should be signed by the registry clerk to acknowledge
receipt.   The  receiving  military  postal  activity  must
keep the original copy for its records.   The duplicate
copy should be returned as a receipt to the individual.
At-Sea Transfer
During  at-sea  transfer  of  registered  mail,  the
receiving ship must furnish an immediate receipt to the
transferring unit.  If the circumstances of the transfer
are of such urgent nature as to prevent the immediate
return of the normal receipt, the receiving ship must
acknowledge receipt by message and will forward the
paper  receipt  as  soon  as  possible.    According  to
Replenishment  at  Sea  Instructions  (NWP  4-01),
registered  mail  must  be  transferred  in  weighted,
nonwatertight  bags  whenever  feasible  to  ensure
prompt sinking in case of loss.
IRREGULARITIES IN RECEIPT
When  registered  mail  is  receipted  for  and  it  is
noted  that  all  articles  listed  on  the  manifest  or
inside/outside  bills  are  not  received,  then  specific
7-14
PCf0716
Figure 7-16.—An example of an EP-11, outside mail registry
bill envelope.