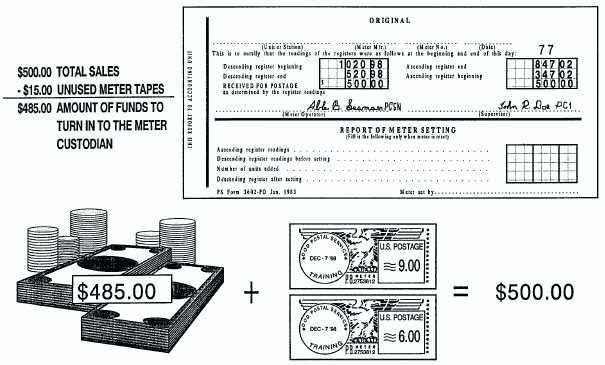 operator.   These  meter  funds  will  be  included
with the remittance at the end of the business
day.
·   

Give the substitute clerk a receipt for meter funds
collected using PS Form 1096.
RETURNING METERS AT THE CLOSE OF
DAILY BUSINESS
At the close of the day's business, you determine
how much metered postage you sold by subtracting the
"DESCENDING   REGISTER   END"   from   the
"DESCENDING REGISTER BEGINNING," and the
"ASCENDING  REGISTER  BEGINNING"  from  the
"ASCENDING  REGISTER  END."  The  two  ending
amounts MUST be equal and these figures reflect the
amount  of  funds  you  have  to  submit  to  the  meter
custodian.
When meter operators have unused meter tapes at
the end of a day's business, the amount of the tape(s) is
deducted from the funds.  For example: If a clerk does
$500.00 in postage meter business and has two unused
meter tapes totaling $15.00, the clerk gives the meter
custodian $485.00 in funds and the two tapes valued at
$15.00 equaling the total sales of $500.00 (see figure
8-17).
·   

The  meter  operator  must  also  complete  a  PS
Form 3533 (Application and Voucher for Refund
of  Postage  and  Fees)  for  submission  with  the
spoiled meter tapes.  The COPE, meter operator,
and a certifying employee (Postal Officer) must
sign this form.
·   

If a postage meter fails to print a meter tape, and
the  amount  is  registered  on  the  ascending  and
descending   counters,   submit   a   letter   of
explanation, signed by the postal officer, with a
completed  PS  Form  3533.   The  COPE,  meter
operator,  and  postal  officer  must  sign  the  PS
Form 3533.
The  following  items  will  be  turned  over  to  the
meter custodian:
·   

Postage meter head
·   

Meter operating lever key
·   

Funds for meter tapes sold
·   

Unused meter tapes (if any)
·   

Triplicate copy of PS Form 3602-PO
The  meter  custodian  will  reinsert  the  triplicate
copy  back  into  the  correct  form  set  of  the  PS  Form
3602-PO  book.
Once  in  place,  the  custodian  will
record  the  ending  ascending  and  descending  register
readings.  The difference between these two numbers
is the amount the meter custodian is going to collect
from  you.
It  is  your  responsibility  to  verify  these
8-23
FPO AE 07561-0001
PB
2753812    7DEC98
PCf0817
ABS ABLE B SEAMAN
JRD JOHN R. DOE
Figure 8-17.—Calculating the amount of meter funds to be turned in at the close of daily business.