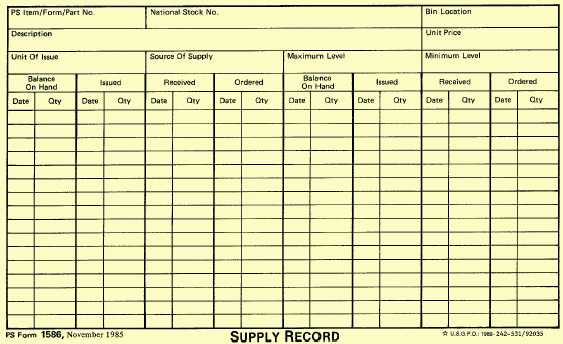 ·   

Unit of issue
·   

Source of supply
·   

Maximum and minimum levels
·   

Balance on hand
·   

Quantity issued, received, and ordered
Information  on  the  ordering  of  supplies  can  be
found   in   USPS   Publications   223   and   247,   and
OPNAVINST 5112.6 appendix B.
NOTE: The maximum and minimum levels will be
entered  in  pencil  to  allow  for  adjustment  when
requirements  change.    Occasionally,  the  USPS  will
introduce a new item that will cause deletion of another
item.  As supply clerk for your MPO, you must ensure
changes are annotated in the post office copy of USPS
Publication 223 and on PS Form 1586.  You will find
these  changes  in  the  Postal  Bulletin  your  office
receives on a biweekly basis.
INVENTORY CONTROL
Inventory  control  establishes  the  minimum  and
maximum stock quantity.  By maintaining an accurate
stock  level,  you  will  have  sufficient  USPS  postal
supply items available at all times and will not run out.
As a minimum, postal supplies will be inventoried on a
semi-annual basis (during the months of January and
July).  Inventories help determine if supply records are
accurate, if established minimum and maximum levels
need to be adjusted, and if supplies need to be ordered.
The inventory count is recorded on PS Form 1586.
MPOs should maintain at least a 3-month but not
more than a 5-month level of supplies. Consideration
should be given to the amount of time it takes to receive
supplies from the Material Distribution Center.
If you are stationed on a ship and are deployed, be sure
you have enough postal supplies to last at least 5 months.
SPECIAL ITEMS
Learning  Objective:    

Recall  the  procedures
for requisitioning special supply items.
There are certain items that are not requisitioned
on  PS  Form  7380.
These  items  are  unique,  and
normally  the  USPS  or  a  contractor  must  specially
manufacture them.
SPECIAL ORDER RUBBER STAMPS
Special order rubber stamps should be ordered on
PS  Form  1567,  Requisition  for  Rubber  and  Steel
Stamps  Only,  from  the  applicable  JMPA.   List  these
12-19
PCf12012
PS FORM 3806
RECEIPT FOR REGISTERED MAIL
SE
MDC
500
300
INVENTORY
2JAN 500
02 JAN 2001
1FEB   

350
1FEB 150
5FEB 350
7MAR 350
7MAR 500
Figure 12-12.
An example of a PS Form 1586 showing supplies received.