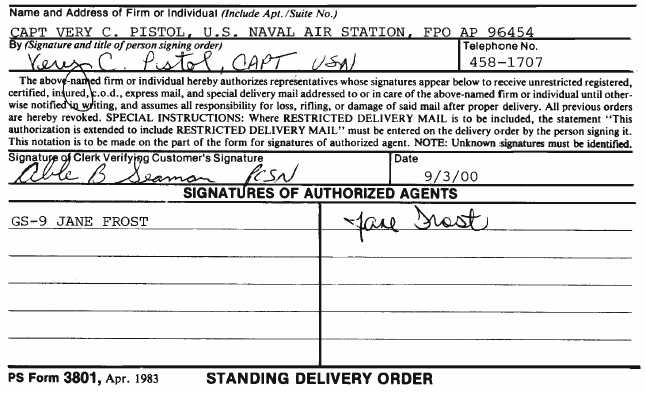 ·   

Prepare a PS Form 3849 showing disposition of
the  undeliverable  accountable  article  on  the
reverse side of the form and sign and date the
form.
·   

File the completed PS Form 3849 and return the
undeliverable article to the serving post office
using PS Form 3877 (see figure 9-3).
RESTRICTED DELIVERY
The  sender  at  the  time  of  mailing  may  direct
registered, certified, and numbered insured articles be
delivered only to the addressee or to someone named
by them in writing.  The endorsement RESTRICTED
DELIVERY is used for this purpose.  Other markings
such  as  PERSONAL  are  not  to  be  considered  as
indicating restricted delivery services.
Addressees  can  authorize  other  individuals  to
receive their mail, including restricted delivery mail,
by  completing  a  PS  Form  3801,  Standing  Delivery
Order, (see figure 9-4) at the serving MPO.
STORAGE OF ACCOUNTABLE MAIL
AWAITING DELIVERY
You should store accountable mail in a manner that
allows  easy  retrieval  when  it  is  called  for  by  an
addressee with the exception of registered mail, which
should be kept in a secure area away from other mail.
The volume of mail and the amount of floor space in
your  mailroom  will  normally  dictate  a  workable
system for your situation.  All accountable mail should
be  stored  in  a  manner  that  allows  easy  and  quick
monitoring during retention periods and for follow-up
action with PS Form 3849 as previously discussed.
Q9-3.     Mailrooms  ashore  must  be  built  to  provide
adequate security for all mail.  (True/False)
Q9-4.
In   what   manner   must   you   account   for
duplicate    keys    and    copies    of    safe
combinations?
Q9-5.
What  official's  permission  must  you  obtain
before picking up mail in a private vehicle?
Q9-6.
What is the most common system used in the
Navy to deliver mail to the addressee?
Q9-7.
What is the maximum amount of postage due,
if any, that should be collected on an article
addressed for delivery at an MPO?
Q9-8.
When  official  accountable  mail  is  receipted
for by department or division mail orderlies
from  a  unit  mail  clerk,  the  mail  should  be
listed and signed for on what PS form?
9-8
PCf0904
Figure 9-4.—An example of a PS Form 3801, Standing Delivery Order.