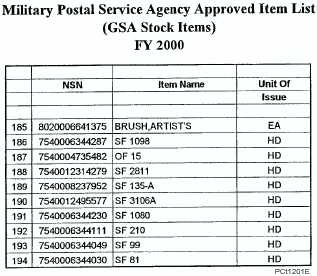 When requisitioning USPS equipment and certain
supply items, refer to USPS Publication 247. Equipment
and supply items should be ordered on an as-needed basis
and are limited to those items that are not required to be
furnished by the Navy.   If USPS capital and sensitive
equipment is needed, your serving FLTCINC and JMPA
must first approve their procurement.
USPS CAPITAL AND SENSITIVE
EQUIPMENT
Learning  Objective:    

Recall  the  procedures
for receipting, requisitioning, and performing
maintenance  on  USPS  capital  and  sensitive
equipment.
Capital equipment is equipment such as conveyors
with a service life over 1-year, costing $3,000 or more;
sensitive equipment is equipment that must be strictly
controlled  because  of  the  nature  of  the  equipment.
Money order imprinters, MODIS equipment, scales,
postage meter heads and bases are some examples of
sensitive equipment.
The  commanding  officer  or  postal  officer,  as
appropriate, should ensure that the COPE is the only
individual  entrusted  with  the  custody,  control,
maintenance,  repair,  replacement,  or  disposition  of
USPS capital and sensitive equipment.
The  COPE  receipts  for  all  capital  and  sensitive
(accountable equipment) on PS Form 1590, Supplies
and  Equipment  Receipt  (see  figure  12-3)  when
assuming  responsibility  of  an  MPO.    Each  time
12-3
Table 12-1.
MPSA Approved Item List, GSA Stock,
Nonstock, and Deleted Items
Continued
Table 12-1.
MPSA Approved Item List, GSA Stock,
Nonstock, and Deleted Items
Continued