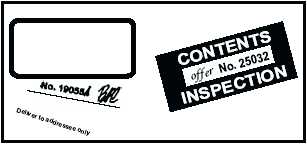 used, should be placed in an area above the address
(figure 3-4).
Unauthorized Markings
Unauthorized markings are markings that do not
designate the rate of postage, class of mail, mailing
address, handling instructions, content, or the special
service  requested.    Unauthorized  markings  are  not
permitted to appear on articles presented for mailing.
Obsolete markings should be covered or obliterated.
Containers improperly identified as to content are not
acceptable (for example, a box marked as containing
cornflakes that actually contains flammable liquids).
Imitations of postage stamps, in adhesive or printed
form, or private seals or stickers that are like a postage
stamp  in  form  and  design  should  not  be  placed  on
parcels  accepted  for  mailing.   Decorative  markings
and designs, in adhesive or printed form, that imitate
the  markings  and  designs  used  to  identify  official
postal services (see figure 3-5) should not be placed on
3-6
MARKINGS AND ENDORSEMENTS FOR MAIL CONTAINERS BY CUSTOMERS
Marking
Applicable To Items
Marking is Mandatory
Fragile
Containing delicate items such as glass, and
electrical appliances.
Yes
Perishable
Containing products that decay quickly, such as
fresh fruits and vegetables.
DO NOT BEND
Only when contents of container is fully protected
with stiffening material.
No
DO NOT FOLD
DO NOT CRUSH
Return Receipt Requested
Must use the wording or label required by the
special service standard.
Yes
Special Handling
Table 3-2.—Markings that may be placed on articles by customers
PCSN JOHN R DOE
USS SHIP DD-966
FPO AE 09533-0001
Figure 3-4.—Area for placement of special service endorsement.
Area for Special Service
Endorsement
JANE B DOE
1776 AMERICA ST
WASHINGTON DC 20020
CLASSIFIED
DELIVERY
PCf0305
Figure 3-5.—Examples of labels that may not be placed on
articles to be mailed.