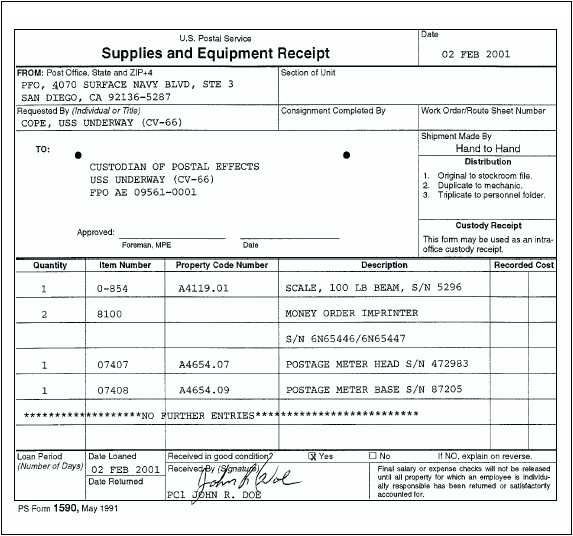 Q12-4.     On  what  PS  form  should  you  list  all
accountable USPS equipment?
Now turn to appendix 1 to check your answers.
USPS NONCAPITAL AND
NONSENSITIVE EQUIPMENT AND
EXPENDABLE SUPPLIES
Learning   Objective:
Recognize  USPS
non-capital,   and   non-sensitive   (non-
accountable)  equipment  and  expendable
supplies, and the procedures for ordering.
The USPS furnishes nonaccountable items.  When
nonaccountable  equipment  is  received  at  MPOs,  it
becomes  the  property  of  the  Department  of  Defense
(DOD).  Nonaccountable items need not be receipted for
formally.  However, to maintain property accountability,
all  nonaccountable  items  received  at  MPOs  should  be
entered in supply records as appropriate.
USPS EXPENDABLE ITEMS
MPOs  with  more  than  one  clerk  assigned  will
designate  an  individual  as  the  postal  supply  clerk  in
addition  to  carrying  out  regular  duties.    The  supply
clerk's  specific  duties  include  receiving  and  issuing
supplies,  care  and  preservation  of  supplies,  and  the
disposal  and  replacement  of  obsolete  forms  and
supplies.
Additional  responsibilities  include  the
monitoring  of  the  stock  levels  of  postal  supplies  to
prevent  overstocking  and  the  requisitioning  of  items
necessary to maintain postal operations.  MPOs should
normally  maintain  at  least  a  3-month  level,  but  not
more  than  a  5-month  level  of  USPS  expendable
supplies on board.
12-8
PCf12003
Figure 12-3.
An example of a completed PS Form 1590.