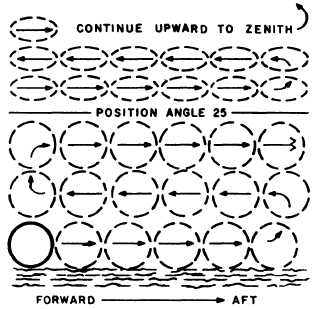 Figure 6.—Sky searching.
improvement  of  vision  in  dim  light  is  called  dark
adaptation.
Effective  dark  adaptation  must  be  planned  well  in
advance. Exposure to excessive glare during the day
will hamper the ability of the eyes to adapt to the dark
at night. This effect may last for several days if the
exposure has been severe; therefore, lookouts scheduled
for night watches should wear sunglasses as much as
possible in the daytime.
Dark adaptation before going on watch consists of
spending at least 30 minutes in darkness or with the
eyes protected by red goggles. Wearing red goggles is
effective because red light does not affect the eyes. To
13