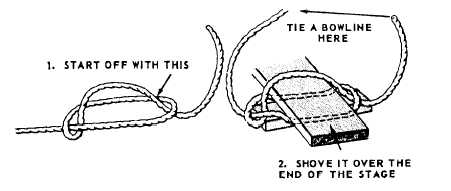 Figure 4-33.–Rigging with a stage hitch.
leadlines are so fixed that the depth may be read at the
level of the chains instead of at the water's edge. This
procedure makes it easier to take sounds at night. Learn
any special markings of the leadline that may be used
on your ship.
Report each sounding to the bridge in a sharp, clear
voice. When the sounding agrees with one of the marks,
report it by mark as 2, 3, 5.
Figure 4-34.–Markings of lead line.
When it falls on an even fathom between marks,
report it as by the deep 4, 5, 8 or 9. If the reading does
not give an even fathom, it is reported, for example, as
"A QUARTER LESS THREE", "AND A QUARTER,
FOUR", "AND A HALF, FOUR." Respectively, these
reports mean that there are 1/4 fathom less than 3
fathoms of water, 1/4 fathom more than 4, and 1/2
fathom more than 4. If the bottom is not reached, report
"NO BOTTOM AT (number of fathoms)."
MOORING A SHIP WITH LINES
LEARNING   OBJECTIVES:   Describe   the
line-handling  procedures  to  moor  a  ship.
Recognize  the  difference  between  standing  and
running  rigging.
The lines used to secure the ship to a wharf, pier, or
another  ship  are  called  mooring  lines.  Five-inch
synthetic rope is used for mooring lines in destroyers or
smaller vessels. Larger ships may use 8-inch or even
10-inch lines. Nylon, polyester, and aramid fiber lines
are now common for all types of ships. Aramid fiber
rope is lighter and smaller (9 inch circumference nylon
reduced to 5 7/8 circumference aramid) for equivalent
breaking strength to other synthetic ropes. See fig-
ure 4-35. Each mooring line should be faked out on deck
near the chock through which it will pass with each eye
passed  through  the  chock  and  looped  back  over  the
lifeline, for passing to the pier.
The mooring line that runs through the bullnose or
chock near the stem of the ship is called the bow line.
The line farthest aft at the stern line is called the stern
line. These lines lead up and down the dock respectfully
to reduce the fore-and-aft motion of the ship. Other
4-41