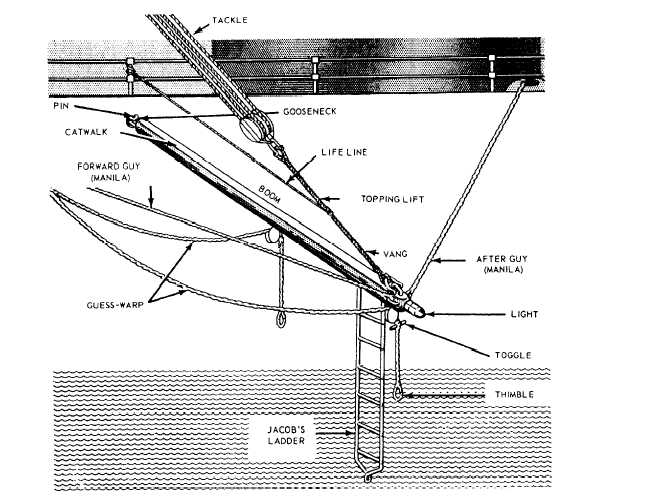 Rigging the boat boom is a simple matter. Ladder,
guys, and guess-warp are attached, and the guys are led
out fore and aft. The after guy usually is marked at the
point where it secures, then it is made fast at this point
first. Next, the boom is started out by a shove with a
boat hook, or anything else suitable, and the forward
guy is heaved around on until the after guy is taut and
then  secured.
You will find it easier to climb the Jacob's ladder
hand over hand from one side, as you would climb a
rope, instead of facing it as you would a rigid ladder. Be
certain you have a good hold on the lifeline before you
transfer from the ladder to the boom, and keep hold of
it as you come in to the side. If you fall off, you are as
likely to injure yourself against the boat as you are by
falling in the water. Always wear a properly secured life
jacket when traveling over the boom. You may be a
good swimmer, but you cannot swim if you are un-
conscious.
In  making  fast  to  the  guess-warp  by  the  boat
painter,  always  reeve  the  painter  through  the  thimble
and secure its end back in the boat, so you will not have
Figure 4-20.–Parts of a boat boom.
to get at the thimble to let go. Always have the boat ride
to a long lead on the painter. The shorter the painter, the
more up and down the strain, and the more the boat's
weight will come on the boom as it dives down on a
swell.
CARGO-HANDLING EQUIPMENT
LEARNING OBJECTIVE: Describe cargo-
handling equipment, including winches and
hand  signals  used  in  the  cargo  handling
evolution.
The  Navy  is  always  studying  and  experimenting  to
make all phases of cargo handling faster, safer, easier,
and more economical. There are many ships designed
for specific tasks that have rigs peculiar to those types.
The  following  discussion  on  cargo-handling  equipment
is  brief.  For  more  detailed  information,  consult
Boatswain's Mate, Volume 1,

NAVEDTRA 10101, or
Naval Ships' Technical Manual,

chapter 573. Fig-
ure 4-21 shows you the typical rig for the yard-and-stay
4-21