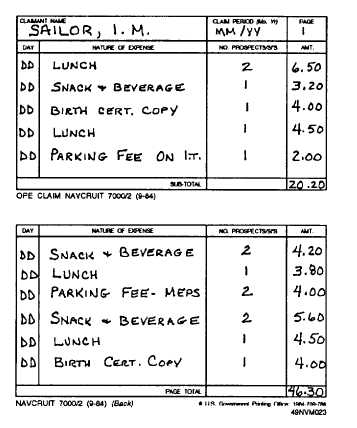 Claim for Reimbursement for Expenditures on
Official  Business.–  

At the end of the month, the
completed  OPE  form  is  tallied  and  attached  to  a
Claim for Reimbursement for Expenditures on Official
Business,  Standard  Form  1164.  These  forms  are
submitted  to  the  designated  official  for  approval.
Approved claim forms are submitted to the LSO who
verifies  the  arithmetic  and  ensures  documentation  is
complete.    Forms  are  then  batched  and  forwarded  to
disbursing  for  payment.
NOTE:  

The Standard Form 1164 must include
the annotation as shown in the From and To columns
of the completed claim in figure 4-11.
Claims  for  Reimbursement  Other  Than
OPE.–

Claims for parking, tolls, and mileage incurred
on official business may be made on a Standard Form
1164.
Claims   for   tolls   and   parking   should   be
accompanied  by  receipts  or  an  explanation  why  a
receipt is not available.
Claims for mileage should
include  detailed  odometer  readings  on  a  separate  sheet
of paper. Prior written approval from the CO must be
obtained to use privately owned vehicles for official
business.  These  claims  should  be  submitted  to  the
designated  approving  official,  who  may  or  may  not  be
the  same  official  that  approves  OPE  claims.
CLAIM  FOR  REIMBURSEMENT  REPORT
FOLDER.–

It is recommended that a copy be retained
for  each  claim  for  reimbursement  submitted,  whether
for OPE or other official expenditures. These can be
annotated   when   checks   are   issued   to   cover   the
reimbursement. The folder should also contain blank
claim forms and a copy of local instructions covering
OPE  claims.
Recruiting Recognition Requests
The

Recruiting   Referral   Recognition   Program,
COMNAVCRUITCOMINST    5305.1,    establishes
eligibility   requirements   and   procedures   for
administration of the referral recognition program.
ZSs are responsible for making sure this program is
aggressively and quickly carried out at the NRS level.
ELIGIBILITY.–   

Any   DEP   members,   officer
candidates,  Regular  or  Reserve  Navy  members,  other
service  recruiters,  and  others  who  have  contributed  to
Navy  recruiting  are  eligible  to  receive  recruiting
referral recognition awards.
Military  and  civilian
personnel assigned or employed by Navy recruiting
are not authorized any awards under this program.
Figure  4-10.—Out-of-Pocket  Expense  Form,  NAVCRUIT
Form 7000/2.
AWARDS.–

The awards structure for this program
includes  referral  recognition  awards,  general  recruiting
referral recognition awards, and the nuclear power
officer  candidate  (NUPOC)  award.
Referral Recognition Awards.–

These awards are
used to recognize those Navy members who provide
referrals  that  result  in  new  contracts.
Officer
candidates and members in enlisted DEP or initial
entry  training,  including  those  who  were  never  in
DEP, are eligible to receive the referral recognition
awards.
Awards   include   a   hip   pack,   honorary
recruiter  card,  sweat  shirt,  letter  of  appreciation  from
the NRD CO, certificate of appreciation from CNRA,
E-2   and   E-3   advancement,   CNRC   letter   of
commendation,  certificate  of  commendation,  and  lapel
pin.
Specific
requirements
are
listed
in
COMNAVCRUITCOMINST  5305.1
General  Referral  Recognition  Awards.–
Recruiting   referral   recognition   awards,   with   the
exception  of  hip  pack,  sweat  shirt,  and  advancement,
are   authorized   for   recipients   who   are   non-DEP
personnel.
4-27