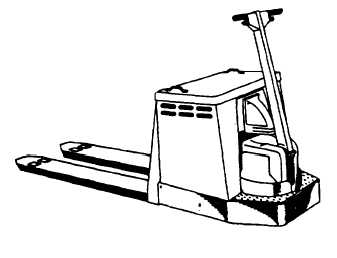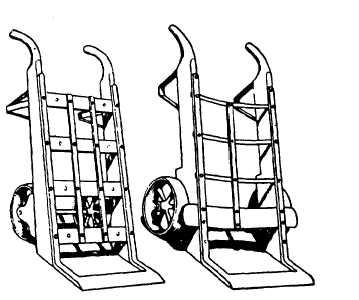 a  vertical  position  when  picking  up  or  lowering
a load. It is tilted back toward the operator when
transporting  a  load  to  give  it  greater  stability.
When using the forklift truck there are some
safety  precautions  listed  below  that  you  must
follow:
Pallet
Prominently  stencil  the  load  capacity  on
the  forklift  to  remind  operators  not  to
overload.
Do not bump or push stacks to straighten
them.
Do  not  load  while  the  forklift  is  moving.
Tilt mast back when transporting a load.
Drive  forward  when  transporting  a  load
up  a  ramp  and  in  reverse  when  going
down.
When  parking  and  leaving  a  truck,  be  sure
the  motor  is  turned  off  and  the  parking
brake is set.
Trucks
Pallet  trucks  serve  a  useful  purpose  in  picking
up  and  transporting  palletized  loads.  They  are
especially good where space is limited and where
handling   operations   are   too   small   for   forklift
trucks.
The pallet truck frame consists of a fork that
fits  between  the  top  and  the  bottom  decks  of  a
Figure 4-6.—Battery-power pallet truck.
pallet   and   supports   the   load   on   the   entire
wheelbase.  Pallet  trucks  may  be  self-propelled
using  a  battery-electric  motor  or  may  be  manually
propelled.  The  lift  mechanism  is  hydraulic  and
may  be  either  electric  powered  or  manual.  The
use of the pallet truck is limited since it requires
a  smooth  deck  because  of  the  small  wheels  and
it  does  not  have  the  lift  capability  of  the
forklift for stacking operations. A battery-electric
powered  pallet  truck  is  shown  in  figure  4-6.
Hand  Trucks
Hand trucks are perhaps the most versatile of
all  materials-handling  equipment.  They  may  have
either two or four wheels. The two-wheel type is
shown in figure 4-7. They range in size and weight
from  45  to  155  pounds  with  carrying  capacities
up  to  2,000  pounds.
To operate a hand truck after it is loaded, you
place  a  foot  on  the  axle  and  pull  down  on  the
handles. Most of the weight is then balanced on
the  wheels  and  axle  and  you  can  push  the  load
easily. The hand truck may also be used as a pry
or lever. By pushing the lip under a heavy object,
it is possible to raise it several inches off the deck.
Conveyors
Conveyors are used for moving supplies in a
fixed line of travel. Two basic types of conveyors
have  been  adopted  as  standard  for  the  military
department. The first is the gravity-type roller or
Figure 4-7.—Two-wheeled warehouse hand truck.
4-9