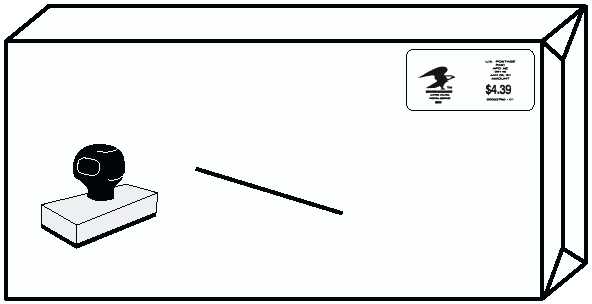 those  catalogs  bearing  the  endorsements
A D D R E S S / F O RWA R D I N G / R E T U R N
SERVICE REQUESTED. Catalogs may then be
given to any authorized customer or placed in the
military post office lobby for customer use.
·   

If  in  the  United  States,  you  should  follow  the
instructions listed in table 11-3.
Income Tax Booklet
Income  tax  booklets  that  are  undeliverable  as
addressed should be released to the appropriate local
office   designated   by   the   commanding   officer.
Normally, the legal officer for the command provides
this  service.   Before  releasing  undeliverable  income
tax  booklets,  you  should  remove  and  destroy  all
address  labels.    Postal  bulletin  notices  pertaining  to
nonrelease  of  income  tax  booklets  do  not  apply  at
military post offices.
STANDARD MAIL (B)
Standard Mail (B), as learned in a previous lesson,
is  also  known  as  SAM  or  Parcel  Post.    It  contains
matter, other than personal correspondence, weighing
16  ounces  up  to  70  pounds  and  consists  mainly  of
parcels.  Process Standard Mail (B) in accordance with
USPS instructions (see table 11-4).
VOTING AND BALLOTING MATERIAL
Voting and balloting material should be provided
directory  service  immediately  when  it  cannot  be
delivered as addressed.  If the material is undeliverable
and  a  forwarding  address  is  not  known,  it  should  be
returned  to  the  mailer  immediately,  marked  with  the
reason  for  return.   Do  not  hold  for  personnel  due  to
arrive unless they are due in 30 days after receipt of the
balloting material.
MAIL FOR PERSONNEL CONFINED
Instructions   concerning   mail   for   personnel
confined   for   disciplinary   reasons   are   in   the
Department   of   the   Navy   Corrections   Manual
(SECNAVINST 1640.9).
Mail  for  personnel  whose  forwarding  addresses
are   on   file   should   be   endorsed   and   promptly
forwarded. The forwarding address should show a post
office box, or a street address, but should not indicate
that the person is confined.
ADDRESSEE NOT AUTHORIZED
MILITARY POST OFFICE PRIVILEGES
Mail  received  at  overseas  locations  addressed  to
personnel  not  authorized  MPO  privileges  should  be
endorsed  ADDRESSEE  NOT  AUTHORIZED  MPO
PRIVILEGES   and   returned   to   the   mailer.
Organizations  and  personnel  authorized  use  of  the
MPS must not use it as intermediaries for any person or
organizations   not   specifically   authorized   MPO
privileges.  If mail is addressed in care of an individual
11-17
PCf1116
SK1 VERY C. PISTOL
S-1 DIV
USS NEVERSAIL (CG-10)
FPO AE 09556-001
S-1 DIV
USS UNDERWAY (CV-66)
FPO AE 09561-001
CHANGE OF ADDRESS DUE
DUE TO OFFICIAL ORDER
DISPOSITION: 

FORWARD

TO

ADDRESSEE
BOB C. SICK
565 WAVERLY RD
OCEAN CITY MD 21289
SAM
Figure 11-16.—An example of a Standard Mail (B) piece, depicting endorsement when forwarded to the addressee.