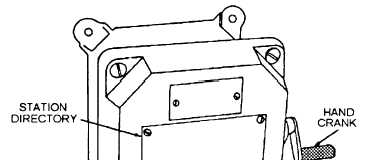 primary and auxiliary systems can be tied together at various
switchboards,  or  individual  stations  may  be  cut  out  of  the
circuits;  but  the  supplementary  system  does  not  have  these
provisions.
Circuits  in  the  supplementary  system  are  usually  not  manned.
Some supplementary circuits are equipped with a buzzer or a
horn for calling another station. The supplementary circuit you
will  use  the  most  is  the  call  signal  station  (fig.  3-6).  To  call
another station, you turn the station selector switch to the station
you want to call and then turn the hand crank. The hand crank
operates  a  magneto  generator  that  produces  a  distinctive  howl  (an
audible noise). The howl will continue as long as you crank the
generator.
Q13.
How  do  you  call  another  station  from  a  call  signal
station?
Figure 3-6.–A call signal station.
3-10