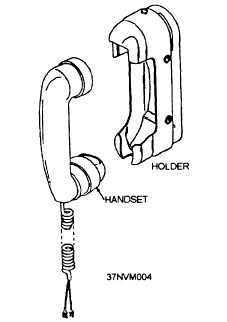 Figure 3-4.-The sound-powered telephone handset and handset holder.
THE  SELECTOR  SWITCH
Sound-powered  telephone  selector  switches  (fig.  3-5)  are
located throughout the ship at control and operating stations
served by more than one sound-powered telephone circuit. The
selector  switch  enables  you  to  talk  on  any  one  of  several  circuits
by turning the rotary dial on the switch to the desired circuit.
Most   of   the   switches   are   installed   with   a   sound-powered
telephone handset hard-wired into the switch. In areas where a
handset  is  not  provided,  you  must  insert  a  headset-chestset  plug
into  the  jack  outlet.  Selector  switches  located  in  normally
darkened  condition  areas  are  provided  with  dial  illumination.
Q6.
When talking from a station with a selector switch, how
do you shift from one circuit to another?
Q7.
Selector switches in darkened-ship condition areas are
provided with what special feature?
3-7