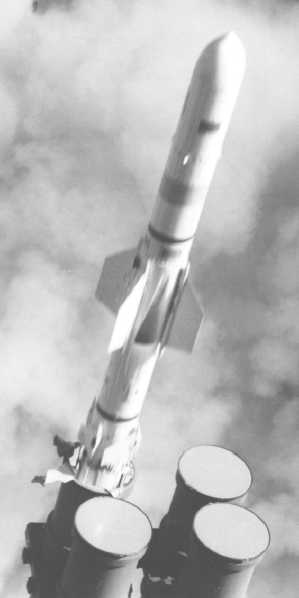 Characteristics of the SM-2(ER) missiles:
Length:
26 feet, 2 inches
Diameter:
13.5 inches
Wing span:
5 feet, 2 inches
Weight:
2,980 pounds
Range:
More than 30 nautical miles
SPARROW
The   AIM/RIM-74   is   a   much-improved   and
highly    successful    air-to-air    and    surface-to-air
version of the Sparrow missile. It has considerably
greater    invulnerability    to    electronic    counter-
measures    (ECM)    and    better    target-tracking
capability.   The   fifth   operational   missile   of   the
Sparrow   family,   it   can   be   employed   against
attacking   aircraft   at   all   tactical   speeds   and
altitudes in all weather. With   folding   wings   and
clipped  tail  fins,  it  is  compatible  with  the  North
Atlantic Treaty Organization (NATO) Sea Sparrow
launcher. Entering the  Navy's  inventory  in  1983,
this latest version of the Sparrow family continues
to  be  one  of  the  Navy's  most  heavily  procured
missiles.
Characteristics of the Sparrow:
Length:
12 feet
Diameter:
8 inches
Wing span:
3 feet, 4 inches
Weight:
510 pounds
Speed:
More than 2,660 miles per hour
Range:
More than 30 nautical miles
CRUISE MISSILES
Since  World  War  II  the  U.S.  Navy  has  relied
upon   carrier   aircraft   to   maintain   sea   control.
Other  navies,  not  having  the  money  for  carriers,
developed  antiship  missiles.  These  missiles  were
first used successfully by the Egyptians to sink the
Israeli destroyer

Elath

in 1967. The battle opened
a  new  era  in  naval  warfare.  Any  nation  with  a
relatively  modest   investment   could   successfully
challenge    the    most    powerful    naval    forces.
The United States did not start development of
a  similar  weapon  until  1971.  At  that  time  the
United States realized our  Navy did not have the
benefit of an equal weapon against ships equipped
with antiship missiles. This led to the development
of  the  Harpoon  cruise  missile.  Further  research
eventually    led    to    the    development    of    the
Tomahawk cruise missile.
HARPOON
The  Harpoon  (fig.  20-3)  is  a  medium-range,
rocket-boosted, turbo-sustained, antiship cruise
134.53
Figure 20-3.-Harpoon missile being launched
from a canister launcher aboard USS

Leahy
(CG-16).
20-5