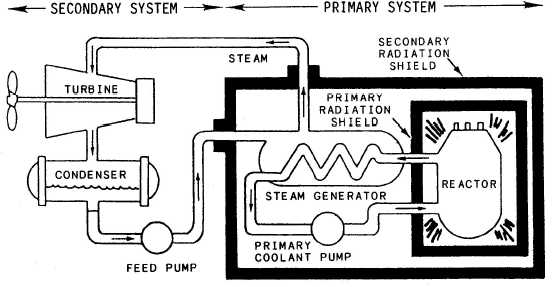 loop) generate steam. Water in the primary loop (fig.
17-4) is heated but not converted to steam. The water
in the primary loop flows from the reactor  to  a  heat
exchanger   called   the   steam   generator.   Here,   the
high-temperature,   high--   pressure   water   in   the
primary  loop  heats  the  water  in  the  secondary  loop
until it becomes steam. The water in the primary loop
then  returns  to  the  react  or  by  the  primary  coolant
pump.  The  steam  generated  in  the  secondary  loop,
which  is  not  superheated,  goes  to  the  turbine.  This
portion of the secondary loop uses a condenser and a
feed pump similar to the conventional steam turbine
plant.
The nuclear power plant has two primary ad-
vantages—  infrequent  fueling  requirements  and  no
need  for  combustion  air.  The  ability  of  the  plant  to
operate    without    combustion    air,    as    previously
mentioned, makes it ideal for use in submarines. The
nuclear  power  plant  is,  however,  expensive  to  build
and   extremely   heavy;   it   requires   highly   trained
personnel for its operation.
DAMAGE CONTROL
An  area  of  engineering  that  should  by  no
means  be  considered  secondary  is  damage  control
(DC).  Damage  control  is  an  all-hands  evolution  on
Navy ships that can never be overemphasized.
DAMAGE CONTROL ORGANIZATION
Damage    control    is    divided    into    two    phases-
administrative  and  battle.  The  administrative  phase
requires
the
efforts
of
all
hands
in
establishing
and
maintaining
material
readiness
conditions.
(Material
readiness
means  all  equipment  aboard  ship  is  available
and   in   a   working   condition   to   combat   any
emergency.)   The   battle   phase   starts   after   a
ship has received damage and must restore its
offensive  and  defensive  capabilities.  All  hands
must be trained in both phases if the ship is to
achieve its damage control objectives.
When  properly  carried  out,  the  first  or
initial action taken helps reduce and confine any
damage   received.   Strict   use   of   compartment
checkoff  lists  ensures  the  full  protection  offered
by each material readiness condition.
Once   the   ship   has   been   damaged,   the
ship's     DC     organization     is     responsible     for
restoring the ship to as near normal operation as
possible.
The
ship's
engineer
officer
is
responsible  for  the  operational  readiness  of  the
DC  organization.  Under  the  engineer  officer  the
damage  control  assistant  (DCA)  coordinates  the
efforts of repair parties in the control of damage.
These    efforts    include    controlling    the    ship's
stability;  fighting  fires;  repairing  damage;  and
using    chemical,    biological,    and    radiological
(CBR)  defense  measures.  The  DCA  also  ensures
that  the  crew  receives  training  in  all  damage
control  evolutions.  In  some  instances,  the  DCA
and   the   engineer   officer   may   be   the   same
person.
Figure 17-4.—Naval nuclear power propulsion plant.
17-9