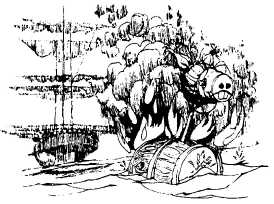 REFERENCES
Basic Military Requirements,

NAVEDTRA 12043,
Naval Education and Training Program
Management Support Activity, Pensacola, Fla.,
1992.
Morris, Chuck, PHI, "To See the Dawn,''

All
Hands 857

(August 1988): 4-10.
Sharp, Victoria, "Saving the

Samuel B. Roberts,"
Fathom

19 (Spring 1988): 2-7.
DEAD HORSE
BRITISH SEAMEN, APT TO BE ASHORE AND UNEMPLOYED FOR CONSIDERABLE PERIODS BETWEEN
VOYAGES, GENERALLY PREFERRED TO LIVE IN BOARDING HOUSES NEAR THE PIERS WHILE WAITING
FOR SAILING SHIPS TO TAKE ON CREWS. DURING THESE PERIODS OF UNRESTRICTED LIBERTY,
MANY RAN OUT OF MONEY, SO THE INNKEEPERS CARRIED THEM ON CREDIT UNTIL THEY WERE
HIRED FOR ANOTHER VOYAGE.
WHEN A SEAMAN WAS BOOKED ON A SHIP, HE WAS CUSTOMARILY ADVANCED A MONTH'S WAGES.
IF NEEDED. TO PAY OFF HIS BOARDING HOUSE DEBT. THEN, WHILE PAYING
BACK THE SHIP'S MASTER, HE WORKED FOR NOTHING BUT "SALT HORSE" THE FIRST OF SEVERAL
WEEKS ABOARD.
SALT HORSE WAS THE STAPLE DIET OF EARLY SAILORS AND IT WASN'T EXACTLY TASTY CUISINE.
CONSISTING OF A LOW QUALITY BEEF THAT HAD BEEN HEAVILY SALTED, THE SALT HORSE WAS
TOUGH TO CHEW AND EVEN HARDER TO DIGEST.
WHEN THE DEBT HAD BEEN REPAID, THE SALT HORSE WAS SAID TO BE DEAD AND IT WAS TIME
FOR GREAT CELEBRATION AMONG THE CREW. USUALLY, AN EFFIGY OF A HORSE WAS
CONSTRUCTED FROM ODDS AND ENDS, SET AFIRE, AND THEN CAST AFLOAT TO THE CHEERS AND
HILARITY OF THE EX-DEBTERS.
TODAY, JUST AS IN THE DAYS OF SAIL, "DEAD HORSE" REFERS TO A DEBT TO THE GOVERNMENT
FOR ADVANCE PAY. SAILORS TODAY DON'T BURN EFFIGIES WHEN THE DEBT IS PAID, BUT THEY ARE
NO LESS JUBILIANT THAN THEIR COUNTERPARTS OF OLD.
2-32