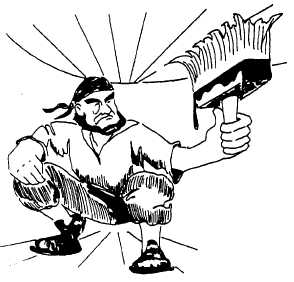 As  long  as  our  Navy  must  steam  "in  harm's
way"  to  carry  out  its  assigned  missions,  it  will
require  a  formidable  antiair  warfare  capability.
The  Aegis  weapons  system  gives  surface  AAW
forces  a  decided  edge  against  the  sophisticated
modern air threat. Planned upgrades to standard
missiles and evolving improvements to the Aegis
weapons  system  promise  the  fleet  an  extremely
capable AAW system well into the 21st century.
SUMMARY
To meet present and future threats, the Navy
develops   new   weapons   systems   and   improves
existing systems. It often develops new weapons
with   physical   characteristics   similar   to   their
predecessors to preclude designing a new system.
This  practice  has  the  advantage  of  being  both  cost
effective  and  time  saving.
DEVIL
Many  weapons  are  capable  of  being  used  by
different types of ships and aircraft. This practice
is  also  cost  effective.  During  periods  of  budget
reductions,  this  policy  just  makes  good  sense.
One  fact  about  our  weapons  and  weapons
systems, however, will always remain constant—
the Navy will always use every resource available
to  meet  any  threat.
REFERENCES
Naval  Science  for  the  Merchant  Marine  Officer,
NAVEDTRA  38051,  Naval  Education  and
Training  Program  Management  Support
Activity,   Pensacola,   Fla.,   1986.
Navy  Fact  File,  

9th  ed.,  Office  of  Information,
Washington,   D.C.,   1989.
TO  PAY
T0DAY  THE  EXPRESSION  "DEVIL  TO  PAY"  IS  USED  PRIMARILY  AS  A  MEANS  OF
CONVEYING AN UNPLEASANT AND IMPENDING HAPPENING. ORIGINALLY, THIS EX-
PRESSION DENOTED THE SPECIFIC TASK ABOARD SHIP OF CAULK THE THE SHIP'S
LONGEST  SEAM.
THE  "DEVIL"  WAS  THE  LONGEST  SEAM  ON  THE  WOODEN  SHIP,  AND  CAULKING
WAS DONE WITH "PAY" OR PITCH.
THIS GRUELING TASK OF PAYING THE DEVIL
WAS  DESPISED  BY  EVERY  SEAMAN,  AND  THE  EXPRESSION  CAME  TO  DENOTE  ANY
UNPLEASANT  TASK.
20-15