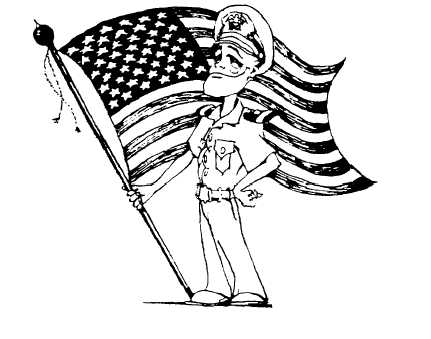 ENSIGN
THE  NAME  GIVEN  THE  NAVY'S  JUNIOR-MOST  OFFICER  DATES  TO
MEDEVIAL  TIMES.
LORDS  HONORED  THEIR  SQUIRES  BY  ALLOWING
THEM  TO  CARRY  THE  ENSIGN  (BANNER)  INTO  BATTLE.
LATER
THESE SQUIRES BECAME KNOWN BY THE NAME OF THE BANNER
ITSELF.
IN  THE  U.S.
ARMY  THE  LOWEST  RANKING  OFFICER  WAS  ORIGINALLY
CALLED   "ENSIGN"   BECAUSE   HE,
LIKE  THE  SQUIRE  OF  OLD,  WOULD
ONE  DAY  LEAD  TROOPS  INTO  BATTLE  AND  WAS  TRAINING  TO  THAT
END.
IT  IS  STILL  THE  LOWEST  COMMISSIONED  RANK  IN  THE
BRITISH  ARMY  TODAY.
WHEN  THE  U.S.
NAVY  WAS  ESTABLISHED,
THE AMERICANS CARRIED
ON  THE  TRADITION  AND  ADAPTED  THE  RANK  OF  ENSIGN  AS  THE
TITLE   FOR   ITS   JUNIOR   COMMISSIONED   OFFICERS.
8-14