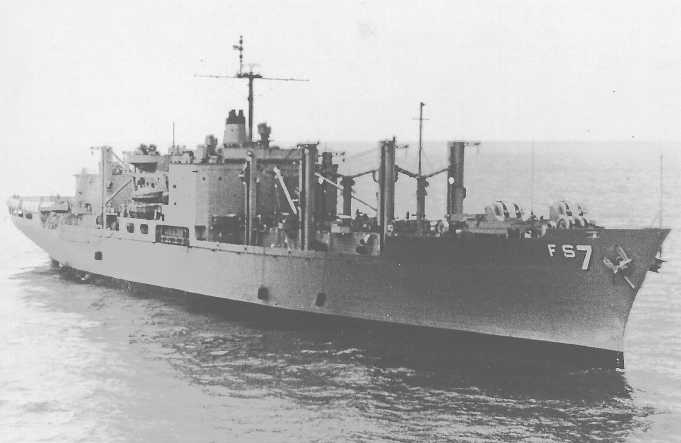 ship,  a  refrigerator  ship,  and  an  aviation  supply
ship.
The AFS (fig. 19-21) is designed for high-speed
replenishment    operations.    Built-in    materials-
handling    equipment,    consisting    of    elevators,
vertical  tray  lift  conveyors,  and  pallet  conveyors,
provide  for  the  rapid  breakout  of  cargo.  Forklift
trucks  and  pallet  trucks  are  used  for  horizontal
movement of cargo to the replenishment stations.
In  addition  to  the  conventional  replenishment
rigging,
constant-tension
highline
transfer
systems   are   available   to   all   transfer   stations.
Large   free-deck   areas   provide   space   for   pre-
positioning  loads  destined  for  receiving  ships.  A
helicopter platform and hangar for launching and
servicing  two   helicopters   add   the   capability   of
vertical replenishment.
FAST  COMBAT  SUPPORT  SHIPS.  

—Fast
combat  support  ships  (AOEs)  are  the  largest  and
most powerful auxiliary ships in the Navy. Unlike
other replenishment ships, the AOE is designed to
operate as an integral force, rather than as a unit
of an underway replenishment group.
The AOE (fig. 19-22) is a multiple-product ship
that
can
transfer
missiles,
conventional
ammunition,  fuel,  and  general  and  refrigerated
cargo to other ships at sea.
The   AOE   combines   in   one   large   ship   the
functions of three major service force ships—oiler,
ammunition ship, and combat store ship. The deck
layout and cargo-handling equipment of  the  AOE
allow it to service the smallest patrol craft or the
largest carrier.
The  design  of  the  AOE  includes  a  helicopter
flight deck capable of supporting three Sea Knight
helicopters. The use of helicopters in replenishing
has several advantages. It enables the transfer of
provisions  faster  than  a  receiving  ship  can  stow
them away. It  also  enables  the  transfer  of  highly
perishable    commodities    without    the    risk    of
defrosting   or   spoilage.   In   addition   it   makes
possible  the  replenishment  of  a  ship  that  may  be
40 or 50 miles away.
The AOE is larger than other UNREP ships. It
has  15  replenishment  stations,  each  capable  of
transferring a load of cargo to a ship alongside
134.199
Figure 19-21.-USS

San

Jose

(AFS-7).
19-20