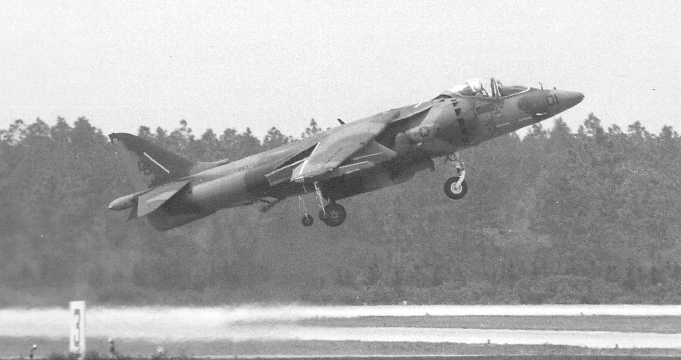 AIRCRAFT
Marine    rotary-wing    units    include    Marine
attack  helicopter  (HMA)  squadrons;  light  (HML),
medium  (HMM),  and  heavy  helicopter  transport
(HMH)     squadrons;     and     experimental/special
mission    helicopter    (HMX)    squadrons.    Marine
fixed-wing units include Marine attack (VMA), all-
weather
attack
(VHA[AW]),
fighter/attack
(VMFA),    tactical    electronic    warfare    (VMAQ),
tactical  reconnaissance  (VMFP),  aerial  refueler/
transport    (VMGR),    and    observation     (VMO)
squadrons.
Marine helicopters include the UH-1N Iroquois,
AH-1T/W Cobra,  CH-46  Sea  Knight,  and  CH-53E
Sea Stallion. The Sea Stallion, the largest military
helicopter in the free world, has a lift capability of
more than 32,000 pounds.
Marine  fixed-wing  aircraft  include  the  F/A-18
Hornet,    A-6    Intruder,    A-4    Skyhawk,    AV-8B
Harrier (fig. 14-5), EA-6B Prowler, RF-4 Phantom,
OV-10   Bronco,   and   the   KC-130   Hercules.   All
Marine aircraft, except the  Hercules,  can  operate
from  aircraft  carriers  and  expeditionary  airfields
ashore. Helicopters and Harriers can also operate
from amphibious ships.
MARINE CORPS OFFICERS
The   Marine   Corps   has   officer   procurement
programs  similar  to  those  of  the  Navy.  They  are
based on provisions of federal statutes as issued by
instructions  from  the  Secretary  of  the  Navy  and
the Commandant of the Marine Corps. Candidates
for  appointment  to  a  commissioned  grade  in  the
Marine Corps and Marine Corps Reserve must be
citizens   of   the   United   States.   They   must   be
mentally,  morally,  physically,  and  professionally
qualified   and   at   least   20   years   of   age.   Naval
aviator candidates must not be over 27½ years of
age, and  ground  officer  (exclusive  of  limited  duty
officer and warrant officer) candidates must not be
over 28 years of age.
NAVAL ACADEMY
The Secretary of the Navy allots to the Regular
Marine  Corps  each  year  a  quota  (16.6  percent  at
present) from the current  graduating  class  of  the
Naval    Academy.    Upon    graduation,    members
whose  applications  for  commission  in  the  Marine
Corp have been approved by the Superintendent of
the Naval Academy fill this quota. Applicants who
were formerly enlisted in the Marine Corps
134.52
Figure 14-5.-The single-engine, single-seat AV-8B Harrier, used for light attack and close air
support for ground forces, executing a vertical takeoff.
14-8