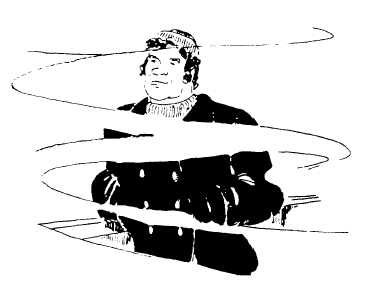 PEA  COAT
SAILORS WHO HAVE TO ENDURE PEA-SOUP WEATHER OFTEN
DON  THEIR  PEA  COATS  BUT  THE  COAT'S  NAME  ISN'T
DERIVED  FROM  THE  WEATHER.
THE HEAVY TOP COAT WORN IN COLD, MISERABLE WEATHER
BY  SEAFARING  MEN  WAS  ONCE  TAILORED  FROM  PILOT
CLOTH - A HEAVY, COARSE, STOUT KIND OF TWILLED
BLUE CLOTH WITH THE NAP ON ONE SIDE.
THE  CLOTH
WAS SOMETIMES CALLED P-CLOTH FOR THE INITIAL LETTER
OF THE WORD AND THE GARMENT MADE FROM IT WAS CALLED
A P-JACKET - LATER A PEA COAT. THE TERM HAS BEEN
USED SINCE 1723 TO DENOTE COATS MADE FROM THAT
CLOTH.
9-28