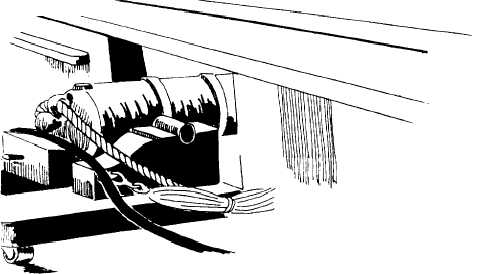 intensive training. Its traditional peacetime role
is  to  serve  as  a  force-in-readiness.  The  Marine
Corps  has  a  global  outlook;  therefore,  Marines
stand  ready  to  be  deployed  to  any  part  of  the
world  to  carry  out  their  assigned  missions.
Through its traditions and training, the United
States Marine Corps is always ready to fight for
freedom   and,   as   the   motto   goes,   "Semper
Fidelis."
REFERENCES
United States Department of Defense,  

Functions
of  the  Department  of  Defense  and  Its  Major
Components,  

DoD  Directive  5100.1,  Office  of
the  Secretary  of  Defense,  Washington,  D.C.,
1987.
The United States Government Manual 1989/90,
Office   of   the   Federal   Register,   National
Archives   and   Records   Administration,
Washington,  D.C.,  1989.
SUGGESTED  READING
Estes, K.W.,  

The Marine Officer's Guide,  

5th ed.,
Naval  Institute  Press,  Annapolis,  Md.,  1985.
Krulak,  V.H.,   

First  to  Fight:  An  Inside  View  of
the  Marine  Corps,   

Naval   Institute   Press,
Annapolis,   Md.,   1984.
PORTHOLES
SOMETIMES,   NOVICE  SEAMEN  WILL  ASK, "HOW COME HOLES ON THE STARBOARD SIDE ARE
CALLED PORTHOLES INSTEAD OF STARBOARDHOLES?"
MANY  OLD  SALTS  ARE  READY  WITH  EX-
PLANATIONS,
BUT ACTUALLY THE NAME
"PORTHOLE"  HAS  NOTHING  TO  DO  WITH  ITS  LOCA-
TION.
THE   WORD   ORIGINATED   DURING   THE   REIGN   OF   HENRY   VI   OF   ENGLAND   (1485).   IT
SEEMS  THE  GOOD  KING  INSISTED  ON  MOUNTING  GUNS  TOO  LARGE  FOR  HIS  SHIPS,  AND
THEREFORE THE CONVENTIONAL METHODS OF SECURING THE WEAPONS ON THE FORECASTLE
AND AFTCASTLE COULD NOT BE USED.
A FRENCH SHIPBUILDER NAMED JAMES BAKER WAS COMMISSIONED TO SOLVE THE PROBLEM.
AND  SOLVE  IT  HE  DID  BY  PIERCING  THE  SHIP'S  SIDES  SO  THE  CANNON  COULD  BE  MOUNTED
INSIDE  THE  FORE  AND  AFTER  CASTLES.
THE  FRENCH  WORD  "PORTE,"    MEANING  DOOR,  WAS  USED  TO  DESIGNATE  THE  REVOLUTION-
ARY  INVENTION.
"PORTE"  WAS  ANGLICIZED  TO  "PORT"  AND  LATER  CORRUPTED  TO  PORT-
HOLE.
EVENTUALLY,
IT  CAME  TO  MEAN  ANY  OPENING  IN  A  SHIP'S  SIDE  WHETHER  FOR
14-11
CANNON OR NOT.